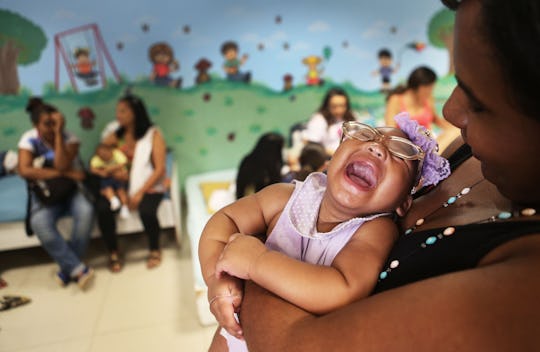 Mario Tama/Getty Images News/Getty Images
Will Zika Spread To Other Countries Around The Globe? 61 Nations Have Been Affected
As travel-related cases of the Zika virus manifest in the United States, health officials, politicians, and American citizens are hoping the the mosquito species that carries the illness won't migrate here, and wondering whether Zika will spread to other countries around the globe. The illness began making headlines last year, when images of Brazilian newborns with abnormally small heads who had contracted it in utero began hitting newspapers and newsfeeds worldwide. Since then, officials have warned women in affected countries not to get pregnant, and the World Health Organization has deemed it a public health emergency. From parts of Africa to the state of Alabama, people are on high alert, trying to predict what the affect will be where they live, and determining how to protect themselves.
While Zika may cause relatively mild symptoms like fever, rashes, and joint pain in adults, the results in babies whose mothers contract it while they're pregnant can be absolutely devastating. They're often born with microcephaly, for example, which causes the easily recognizable small heads, along with brain damage and developmental challenges. There's no vaccine or treatment, and the proliferation of mosquitos as summer progresses means the illness could move beyond South and Central America, the Caribbean, the Pacific Islands, Mexico, Cape Verde, and elsewhere, too, where it now exists, according to the Centers for Disease Control and Prevention.
Right now, 61 countries are dealing with mosquito-borne Zika transmission, according to the WHO (it can also spread through sexual contact), and that number could be on the rise. According to a report StyleCaster's Hannah Hickok compiled, Zika could be making its way to:
Indonesia, Malaysia, Cambodia, China, Bangladesh, Philippines, and Malaysia in Asia;
Senegal, Gabon, South Africa, Democratic Republic of Congo, Zimbabwe, and Cameroon in Africa;
and
France, Italy, and Malta in Europe.
In addition, the United States is preparing for Zika to possibly hit Florida, Alabama, Mississippi, Louisiana, and Texas. There have already been hundreds of reported cases of Zika here, even among pregnant women, but none of these resulted from a mosquito bite a person got while they were in the United States.
Most of the United States will likely remain safe from the Zika threat, and so will most of Europe, Asia, the Middle East, and Africa. That's good news for most of the world, but the virus is wreaking havoc not only on people's health but the upcoming Olympics as well, which are going to be held this summer in Brazil, the epicenter of the outbreak. Some athletes are questioning whether the risk is worth it. American golfer Rory McIlroy announced last week that he was opting out of the Games over Zika concerns, and he's not the first.
For those who don't have plans to travel to Brazil or another affected country, it's a good idea use bug spray this summer to ward off mosquitoes, just in case. The CDC also recommends dressing kids in clothing that covers their arms and legs and using mosquito netting to cover cribs, strollers, and baby carriers to make sure they're protected, and to eliminate sources of standing water where mosquitoes like to breed. And, of course, avoid traveling to infected countries, which means keeping an eye on the CDC's travel warnings, because it looks like the list will lengthen in the coming weeks and months.