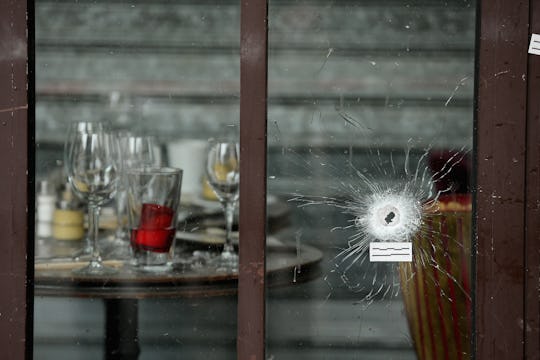 Ismael Omar Mostefai Identified As Paris Suicide Bombing Suspect, Says French Official
UPDATE: One day after ISIS has claimed responsibility for the Paris terror attacks, France reportedly launched airstrikes against the militant group in Syria, dropping 20 bombs in the area. Some targets were destroyed, according to reports, but not much else is known about the airstrikes.
Paris police are currently hunting for an eighth attacker who may still be at large, who has been identified as 26-year-old Abdeslam Salah.
The death toll currently sits at about 130, with over 350 wounded. (One of those killed was an American woman studying abroad in France.) According to French Prosecutor François Molins, nearly 100 of those wounded are critically injured.
EARLIER: A little over 24 hours after a series of terror attacks in Paris led to the deaths of over 120 people (with over 350 wounded), officials have started to release details about the perpetrators of the tragedy. And the first suspected suicide bomber has been identified as Ismael Omar Mostefai. According to officials, the suspect had been living in Chartres since 2012.
Former neighbors of Mostefai said the man was "always polite but kept very much to himself and his family" and that he had a wife and daughter. Though cops reportedly came to Mostefai's home after neighbors complained the family pit bull wasn't muzzled properly, little else is known about the individual.
It's the first bit of concrete information we're getting about the perpetrators out of the attacks, which took place Friday evening in six different locations throughout Paris. Though ISIS claimed responsibility for the attacks on Saturday morning, calling the attacks "miracles," few details have been revealed about the reported seven assailants who were declared dead following the attacks. Police, however, fear there might be an eighth attacker still at large.
During a press conference on Saturday, French Prosecutor François Molins confirmed reports that one of the attackers was a French national who was identified via his fingerprints at the scene of one of the attacks. That individual was reportedly radicalized in 2010, and had a criminal history. It's unclear how that attacker is linked to Mostefai, or whether it's Mostefai himself.
Mostefai's name is the first released in connection to the crime, though Belgium launched a raid earlier on Saturday and have detained seven individuals in connection with the Paris attacks. More details are known about the victims of the tragedy thus far, with names released of a French, American, and British national killed. (Officials have said at least two victims are from Belgium as well.)
On Saturday, French President François Hollande called the attacks an "act of war." World leaders, including President Barack Obama, have pledged to support France in hunting down those responsible for the attacks.
Image: Christopher Furlong/Getty