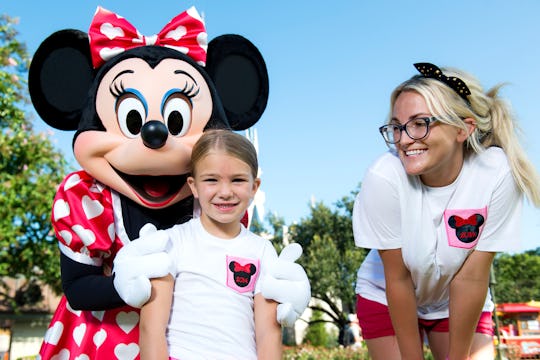 Handout/Getty Images Entertainment/Getty Images
People Are Not Happy About This Photo Of Jamie Lynn Spears' Daughter Maddie Holding A Gun
Jamie Lynn Spears is not a stranger to controversy and a recent Instagram post by her husband, Jamie Watson, of a photo of Spears' daughter Maddie holding a gun while appearing to be on a hunting trip has sparked some outrage online. Romper's request for comment from Spears' representative was not immediately returned.
Spears' husband shared a photo of her daughter Maddie enjoying the great outdoors, as Access reported on Monday. Sounds harmless, except that Maddie is only 10 and, in the photo, she is holding a shotgun and has ear muffs on to protect her ears from the ringing of shots. "Getting her ready for dove season," Watson captioned the photo shared on Sunday, which has since garnered a slew of mixed and heated reactions. Some fans voiced concern that it's dangerous for a child to hold a firearm, while others thought it was important for her to learn gun safety.
Now, here's the thing: Each parent's approach to parenting is different and, yeah, it's hard to raise kids, especially when there's so much judgement out there. I know that not everyone does it exactly the way I do (and sometimes, my way needs improvement, big improvement). But this photo is a toughie for many to just scroll on past, because there's the issue of children and weapons.
In the wake of the Parkland school shooting earlier this year, parents around the country have felt impassioned enough to take their kids to marches to demand stricter gun legislation and to protest gun violence. So, I don't truthfully understand taking a kid around weapons, which can be dangerous and something that people echoed in the comments section of Watson's photo.
"Very sad," one person commented. Another wrote, "You're so irresponsible...Guns are not a toy."
One more chimed in, writing, "Giving a ten year old a gun is a joke in itself."
Yet another commented on an article of the photo, "You don't give a child a gun, period, especially a child who only just recently almost died."
According to the Brady Campaign to Prevent Gun Violence, there's an increased risk of injury and death to having guns in homes with children and research from the Children's Hospital of Philadelphia's Center for Research and Prevention found that, among children, 89 percent of unintentional shooting deaths occur in the home. Most of these deaths occur when children are playing with a loaded gun in their parent's absence. Of course, it's not known where Watson stores his firearm, or if he even owns the weapon Maddie is holding in the photo. Still, hunting accidents do happen, as reported by Very Well.
Beyond from the obvious risks involved in kids handling weapons, many took to the comments section of the photo to voice their concerns that Maddie was learning about hunting. "This is not nice at all i dont know why you think killing is fun," one person commented on the photo. Another simply wrote, "Noooooo😢." One more commented, "Bad parents."
This isn't the first time concerns over Maddie's safety have been in the news. In 2017, Maddie was in a serious ATV accident, according to Us Weekly. As reported by People, the then-8-year-old was steering a Polaris ATV when the vehicle crashed into the water, submerging the little girl, who was trapped underwater by her seat belt as Spears and her husband frantically tried to save her. It was a scary story to hear about but thankfully, rescue workers were able to free Maddie.
Following reports that Maddie was in critical condition in the hospital after the accident, she miraculously recovered, according to People. Understandably, Spears received a huge amount of sympathy and well wishes from fans everywhere in the aftermath. However, as TMZ reported at the time, it was also pointed out that it's not recommended for young children to drive ATVs, such as the model in question.
Guns are, and have been for quite some time, a divisive topic in the United States and the same goes for whether kids should be taught about them. As The Guardian reported, while it's legal for children to possess a rifle or shotgun in 30 states, critics fear it "[lays] a path for danger" but advocates say it "teaches them to use guns responsibly."
While Spears herself has not commented on some of the backlash the photo has gotten, it's clear that she's a loving and dedicated mother to Maddie and her new daughter, Ivey, whom she welcomed in April.