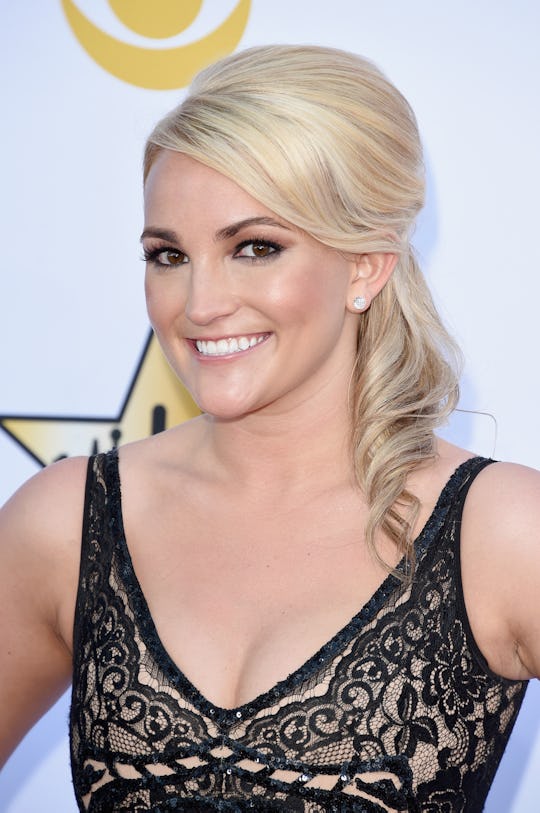 Jason Merritt/TERM/Getty Images Entertainment/Getty Images
Jamie Lynn Spears Just Announced She's Pregnant With Her Second Child!
If you've been wondering where Jamie Lynn Spears has been this year, you're not alone. But on Sunday, Jamie Lynn Spears announced that she's pregnant with her second child in the sweetest Instagram post and that she's been working hard on a slew of new music she can't wait to share with her fans.
On Sunday, 26-year-old Spears posted a picture on Instagram of herself, along with husband Jamie Watson and daughter Maddie, 9 years old, to make the announcement. She wrote, "Looks like we are starting off 2018 with another big milestone...sooo happy to announce that Maddie is FINALLY going to be a big sister."
She added that she was just as ready as anyone to pack up 2017 and get on with the new year. Spears wrote:
2017 was filled with some of the biggest challenges of my life, as well as some of the biggest blessings, so I made a choice to lay low this year to focus on truly becoming my best self as a person and as an artist.
"During that time, I continued working on my music and telling my story, which has created some of my most honest work and I [CAN'T] wait to share that with you all very soon. 2018 is going to be filled with many milestones both personally and professionally," the mom-to-be added.
You might remember that 2017 was an especially scary year for Spears and her family. In February, her daughter rode a children's ATV into a ditch and right into a pond on the family's property in Kentwood, Louisiana. Paramedics told Us Weekly at the time:
Within seconds the child's mother, stepfather and other family members reached the pond, dove in and attempted to rescue the child to no avail. The child was trapped and secured by the seatbelt and the ATV's safety netting. Within two minutes, Acadian Ambulance Services arrived and assisted in freeing the child from the cold waters.
Maddie, then 8 years old, was in critical condition after the accident, and anyone who's ever had a loved one in the hospital knows just how terrifying and exhausting that can be. Luckily, she made a full recovery and will be ready to take on her big sister duties when the time comes. Spears spoke about that time last week, again with a touching Instagram caption thanking the paramedics, John Fortner and Victoria Ragoonath, according to CNN. She wrote:
The hardest milestone me and my family have ever faced was almost losing our beautiful Maddie, but thanks to God and the two angels in this picture we were able to celebrate Maddie turning 9 years old all together. This milestone became a true miracle, and we are forever grateful for that.
This will be Spears' first child with her current husband (she had Maddie with her ex fiancé, Casey Aldridge) and they've been thinking about it for some time. She told Entertainment Tonight in 2016 that Watson and her have been wanting to have more kids "since they got married," but they really wanted to plan it out, even though they acknowledged that that's sometimes impossible.
She told Entertainment Tonight, "I know that they always say, 'There is no right time to have a child, you know. Just have babies.' But I think right now that it's maybe a little selfish for me to have a child. I am getting busy." Spears added that she wanted to avoid as much "mom guilt" as possible when it came to balancing her work and parenting. "I want to be able to do the same as what I have done with Maddie — really just be a mom for a little bit and have that time to focus on my next child," she told Entertainment Tonight in the same interview.
From the sound of it, 2018 is going to be just right for Spears and her family.
Check out Romper's new video series, Romper's Doula Diaries:
Watch full episodes of Romper's Doula Diaries on Facebook Watch.