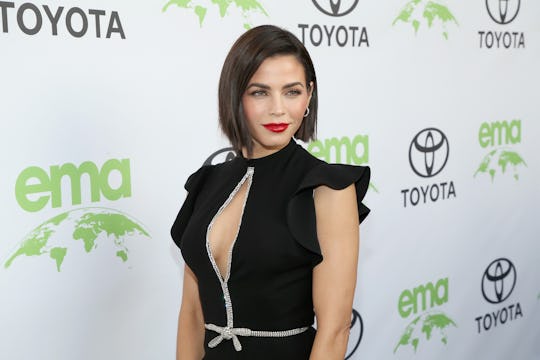 Phillip Faraone/Getty Images Entertainment/Getty Images
Jenna Dewan Gave A Hopeful Update On Co-Parenting Everly With Channing Tatum After Their Split
Jenna Dewan and Channing Tatum may no longer be a couple (#stillcrying), but they are still parents to their daughter, Everly, who is turning 5 this week. In a new interview, Jenna Dewan opened up about co-parenting with Channing Tatum, and it's clear that the former husband and wife are already figuring out the rhythms of parenting their daughter together while separated.
"We're just getting used to it. We're in a very positive energy together, trying to be the best parents to Everly. We support each other," Dewan told Harper's Bazaar. She also explained in the same interview that their co-parenting situation is "a new normal where there is a lot of love," adding that she and Tatum are figuring things out with a new "flow."
Dewan and Tatum announced their separation in a joint Instagram post in early April, touching on their intent to continue parenting Everly together. "We have lovingly chosen to separate as a couple. We fell deeply in love so many years ago and have had a magical journey together," they wrote at the time. "We are still a family and will always be loving dedicated parents to Everly. We won't be commenting beyond this, and we thank you all in advance for respecting our family's privacy."
In the new interview, Dewan also expressed a pretty healthy outlook regarding her and Tatum's separation. She told Harper's Bazaar:
I feel a sense of joy and freedom and excitement, truly, about a new chapter in my life. And I have no attachments to how that's going to look, or what that's going to be. I feel really open, and I feel hopeful.
Dewan's positive attitude about the split seems to be coming from both ends. On Mother's Day earlier this month, Tatum posted a celebratory video to his Instagram Story, sending well wishes to Dewan. "Happy Mother's Day everybody," Tatum said in the video, as reported by Us Weekly. "Jenna, happy Mother's Day, baby. Mama, happy Mother's Day. I hope you're enjoying this beautiful sunset. Love you guys." So even though Tatum and Dewan are no longer together, it's clear that they are both making an effort to remain amicable and supportive for the sake of their daughter.
Dewan also opened up about her relationship with Everly in her interview with Harper's Bazaar. She said:
She's like a little mirror for me. She's so willful that she kind of inspires me to get clear and more willful in my own life. ... If she's not running her own business, or ruling the world, I have failed as a mother.
That being said, it's evident that Dewan will support her daughter no matter what. Everly's latest venture? Apparently wearing all purple for a year. "I just bought a lot of purple leggings and a lot of purple tops," Dewan told Harper's Bazaar.
Last week, Dewan also opened up about ways Everly takes after her at the Environmental Media Association's EMA Awards and Honors Benefit in Beverly Hills, California. Dewan, who eats a mostly vegan diet and is a huge fan of connecting with nature, told People at the benefit that Everly has been following in her footsteps. She has attended several nature camps, including a "fairy camp," where "they learn all about how to be respectful to nature," according to Dewan. She told People:
She'll tell me, "Mommy, you need to recycle that," or, "Be careful, don't disrespect nature!" ... It starts young. She's only 4 and she already has that instilled in her, so I think I'm doing something right.
Though co-parenting is rarely easy, Dewan and Tatum's attitude is definitely inspiring. Working together with someone you've recently broken up with is no easy feat, and Dewan and Tatum's respect for each other serves as a reminder to separated parents that, although it can be really tough, it is possible to co-parent in a joyful way.