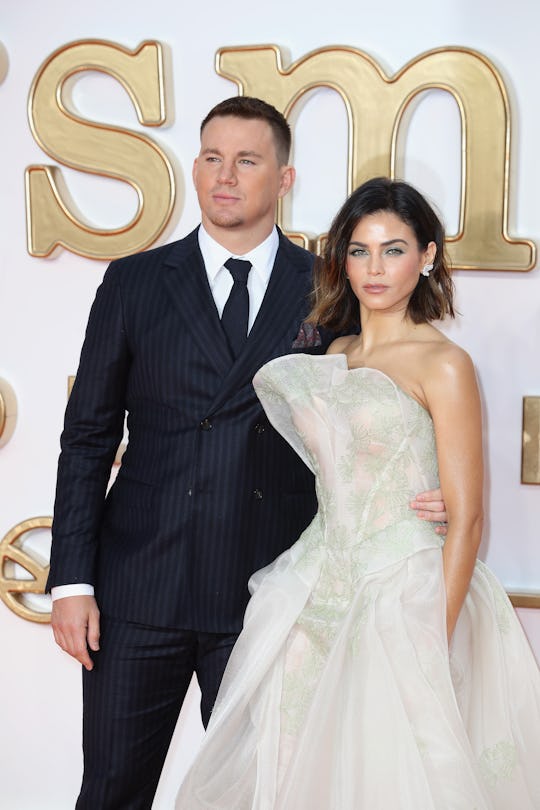 Chris Jackson/Getty Images Entertainment/Getty Images
Jenna Dewan Shot Down Rumors About Why She & Channing Tatum Are Splitting Up
News of Jenna Dewan and Channing Tatum's split has rocked the internet all week — and not in a good way. After the couple announced their separation in a joint Instagram post, their fans expressed all the typical emotions: shock, denial, grief, anger... you know the drill. But as the emotions spread around the internet, so did gossip, unfortunately. And it got so bad that Jenna Dewan had to shut down rumors, despite previously stating that she would not be commenting beyond the couple's original statement.
The rumors in question, originally reported by The Mirror, suggested that Channing Tatum's "drinking and flirting" were the cause of the pair's split. Dewan's rep told the Daily Mail that the allegations are entirely untrue. "Happy to clarify that absolutely none of these rumors are true," her rep told the outlet. "The reason our statement was so positive [was] because that's the reality of the situation."
The Mirror's article cited several past comments Tatum made as well as a "source's" observation of their relationship. The outlet quoted a 2014 interview in which Tatum said: "I probably drink too much ... My wife, that's what she bought into." The article also cited a 2015 interview in which Tatum reportedly said he did not balance his professional life and home life very well, as well as an anonymous allegation that he flirted with another woman on a film set. Romper reached out to reps for both Tatum and Dewan, and they did not immediately return requests for comment.
Tatum and Dewan, who share an almost-5-year-old daughter, Everly, expressed much simpler, kinder reasons for their split in their joint Instagram post earlier this week. They explained:
We have lovingly chosen to separate as a couple. We fell deeply in love so many years ago and have had a magical journey together. Absolutely nothing has changed about how much we love each other, but love is a beautiful adventure that is taking us on different paths for now. There are no secrets nor salacious events at the root of our decision—just two best friends realizing it's time to take some space and help each other live the most joyous, fulfilled lives as possible. We are still a family and will always be loving, dedicated parents to Everly.
At the end of the post, which was signed with lots of love from "Chan&Jenna," they wrote:
We won't be commenting beyond this, and we thank you in advance for respecting our family's privacy.
It's unfortunate that Dewan's rep had to provide a comment, even though Dewan had explicitly stated she wouldn't be commenting on the matter any further. That being said, it's great to have more reassurance that Dewan and Tatum truly are feeling positive about the situation — especially since most of their fans are devastated.
Many took to Twitter to mourn the Hollywood couple, expressing their shock and devastation through memes. However, others were not as surprised, because buzz that the couple was on the rocks had been circulating for the past few months. In particular, in a February interview with Health magazine, Dewan shared that her life and marriage were far from perfect. She told the publication, according to Entertainment Tonight:
When people say, 'You guys have such a perfect life,' I want to scream and tell them, 'No one's perfect,' ... I think there are such things as great fits. It is a great fit as long as you are growing together, and I think up until this point we've really grown together ... But we're not perfect! Are you kidding? We fight like other couples, we disagree about things, we have days where we don't really like each other.
It's great that Dewan has always been so realistic and grounded about her relationship, and hopefully her latest statement will keep the tabloids at bay for a while.
Check out Romper's new video series, Bearing The Motherload, where disagreeing parents from different sides of an issue sit down with a mediator and talk about how to support (and not judge) each other's parenting perspectives. New episodes air Mondays on Facebook.