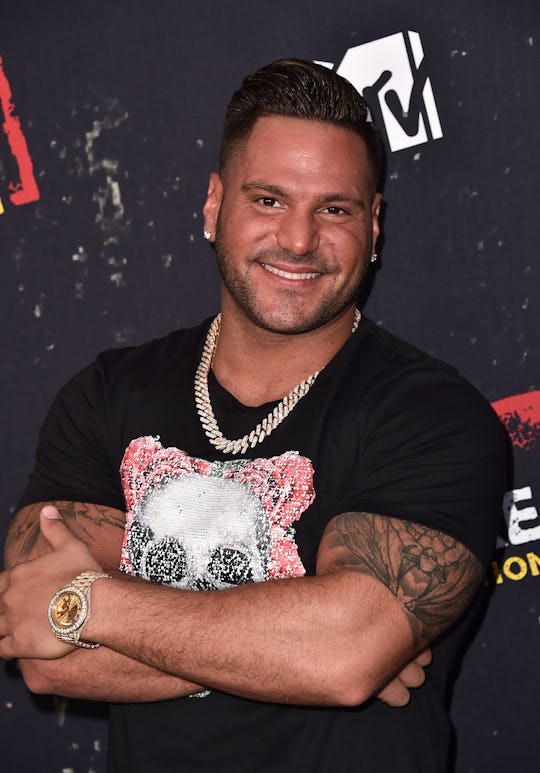 Alberto E. Rodriguez/Getty Images Entertainment/Getty Images
Start Fist-Pumping, Because 'Jersey Shore's Ronnie Ortiz-Magro Is Officially A Dad!
Ronnie has certainly grown up since his Jersey Shore days. As E! News reported on Tuesday, Ronnie Ortiz-Magro has welcomed his first child with his girlfriend, Jen Harley. A source reportedly told E! News that Ortiz-Magro was "over the moon." According to the outlet, rumors that Harley gave birth have been swirling over the past few days, ever since Ortiz-Magro was noticeably absent from the London premiere of Jersey Shore Family Vacation, the Jersey Shore reboot that is scheduled to premiere this week.
"Halfway through the flight this weekend, he found out his pregnant girlfriend Jen Harley's water broke," a source reportedly told Page Six. "The second he landed in London he turned right back around to his home in Vegas to be with her. The cast was so excited . . . they were hugging him at the gate."
Furthermore, as E! News noted, Harley chronicled her time at the hospital Monday night on her Instagram Story as she waited for Ortiz-Magro to arrive. "Just in case you guys didn't know, I'm in f**king labor," she told her followers with a laugh. "And they're about to start the epidural."
She added that her boyfriend was on a flight over to be with her, but he probably wouldn't get to the hospital for at least five hours. Luckily, her "two best friends in the whole wide world" were there to keep her company in the meantime, according to E! News. "I'm feeling really uncomfortable about pushing a baby out of my vagina right now," Harley said on her Instagram story.
Editor's Note: The Instagram post has since been deleted.
One of her best friends, Jenna Marie, also shared some labor updates on her Instagram Story. "10 hours later," she captioned a video of her and Harley in the delivery room.
Harley and Ortiz-Magro first announced Harley's pregnancy (and that she was expecting a girl!) in an Us Weekly article in December 2017, when she was six months along. Harley already has an 11-year-old son, according to the outlet, but this will be Ortiz-Magro's first child.
After Us Weekly announced that the couple was expecting, Ortiz-Magro confirmed the news in an Instagram post. He wrote:
Thank you to everyone who has been supportive with advice & encouragement. People keep saying becoming a parent is the part of life. I've been blessed enough to have SOO MANY best parts of my life #NotSureIfThatMakesSense 🤔I couldn't be more excited to be taking this next step in my life!
The caption was finished off with about a dozen hashtags expressing Ortiz Magro's trepidation, including "#IHearItsLikeHavingAPuppy #ExceptItCries #Talks #EventuallyDrives #EatsEvery2Hours #Sh*tsEvery23Mins." You OK there, Ronnie?
Editor's Note: The Instagram post has since been deleted.
In January, Harley shared an Instagram post further confirming that she was expecting a girl. Her post included an album of photos from their sex reveal party.
The couple first started dating in early 2017, and they've documented their relationship on social media plenty of times since then — including endless photos featuring Harley's bump.
Editor's Note: The Instagram post has since been deleted.
The couple celebrated their then-upcoming bundle of joy in early March at a Las Vegas baby shower. "Ronnie and I had the most amazing baby shower yesterday, we are so thankful to have such good friends and family to come support us and fly in from all over the country!" Harley wrote on Instagram on March 4. The caption was posted alongside a carousel of photos from the affair, which was attended by plenty of Harley's friends, as well as her son and Ortiz-Magro.
It's safe to say that Ronnie Ortiz-Magro may be a little busy caring for his new daughter during the Jersey Shore Family Vacation TV premiere on Thursday — but his castmates, many of whom are also parents, surely won't mind.
Check out Romper's new video series, Bearing The Motherload, where disagreeing parents from different sides of an issue sit down with a mediator and talk about how to support (and not judge) each other's parenting perspectives. New episodes air Mondays on Facebook.