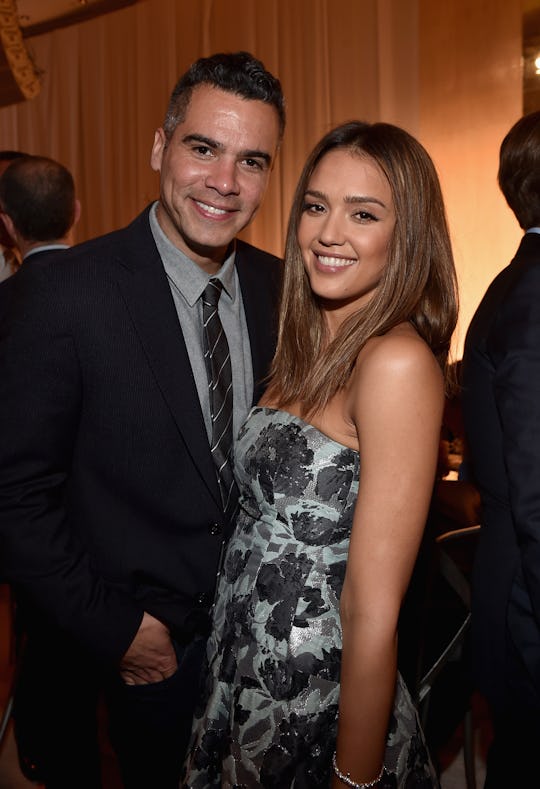 Alberto E. Rodriguez/Getty Images Entertainment/Getty Images
Jessica Alba Was *Not* Having It With Her Husband's Baby Name Idea
On Wednesday, Jessica Alba took to Instagram to announce that her third child will be a boy. Shortly after the exciting news broke, Alba chatted with Jimmy Fallon about her pregnancy cravings and potential baby names. Well, it turns out Jessica Alba is not impressed with her husband's baby name pick, and her take on the suggested moniker is pretty hilarious.
Naming your baby can be a daunting and even stressful task, especially when you're in the public eye. If you're famous and pregnant, there's a good chance you'll be asked a billion questions about the pregnancy in interviews and on social media. Although it's no one's business, celebrities are pretty used to fan curiosity, including Jessica Alba. Late Wednesday night, Alba visited Jimmy Fallon's show, The Tonight Show Starring Jimmy Fallon, to field a bunch of questions about her baby boy. When Alba was asked about potential baby names, she revealed that her husband, Cash Warren, suggested an "awful" name.
Alba said, according to ET Online:
[Cash] was like, 'We should name it Dick with a silent 'h.' It's just awful. He thinks it's old school. I'm like, 'No, it's not.'
I have to admit, I'm a bit confused by the "silent h" part. Some alternative spellings for Dick, according to Best Little Baby, are: Dyck, Dyk, and Dik. I guess Warren was grasping at straws when he pitched this moniker? Well, you got to give Warren props for creativity.
And to be fair, Warren was right when he argued that Dick is an "old school" name. Dick was an extremely popular baby name between 1932 and 1936, according to Baby Center, and a lot of older celebrities (Dick Clark, Dick Wolf, Dick Van Dyke), are named Dick. Maybe Warren and Alba could bring this name back to life? A lot of vintage names have been resurrected throughout the past years — in fact, repurposing old-school names is somewhat trendy.
As for Fallon, he's totally on Warren's side in this baby name debate. Fallon joked with Alba that the baby could "be like an old timey dectective" if it's named Dick, according to Brit + Co. Needless to say, Alba didn't hop on the old timey detective train. Alba simply told Fallon not to "encourage" Warren, according to ET Online.
Side note: an old timey detective could make for a really cute baby Halloween costume.
Of course, Alba isn't the first celebrity to shoot down her partner's baby name. In March, George Clooney revealed that Amal Clooney totally shot down his baby name ideas for the couple's twins. Clooney joked, according to ET Online:
My wife says I can't name them Casa and Amigos. That's the one thing I'm not allowed to do.
If you're not familiar with the Casa and Amigos reference, that's a nod to Clooney's Tequila company, "Casamigos." It's not too shocking that Amal nixed the suggestion ... Tequila and babies don't necessarily go hand-in-hand.
As for another celebrity dad who had his ideal baby name rejected, look no further than Ryan Reynolds. In December 2016, Reynolds joked that his wife, Blake Lively, flat out denied him the chance to name their first child "Excalibur Anaconda Reynolds." Reynolds explained, according to Vanity Fair:
When I ran it up the flagpole with my wife, it was resoundingly rejected.
Although these anecdotes are funny and light-hearted, it's important to remember that it's no one's place to judge or to make fun of a baby name. If Alba does have a change of heart on Warren's baby name pick, that would be cool, too. As long as Alba and Warren are happy with the name, that's all that matters.
Watch Romper's new video series, Romper's Doula Diaries:
Check out the entire Romper's Doula Diaries series and other videos on Facebook and the Bustle app across Apple TV, Roku, and Amazon Fire TV.