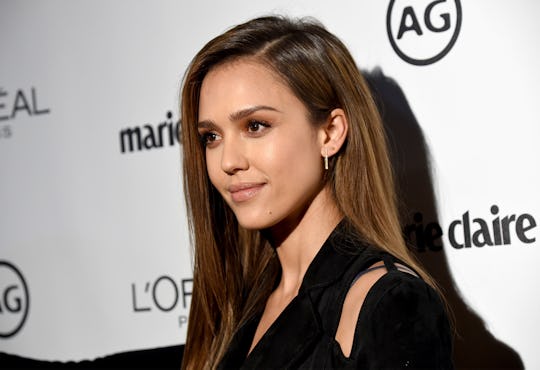 Frazer Harrison/Getty Images Entertainment/Getty Images
Jessica Alba's Breastfeeding Photos Are So Honest & Relatable
There are a lot of things to love about Jessica Alba. She's a great actor, an ambitious entrepreneur, and a down-to-earth mom of three. You know what else you could add to that list? Prolific Instagrammer. OK, sure, you could probably apply that title to so many celebrities. But Jessica Alba's breastfeeding photos are so honest and relatable, that the Dark Angel actor is pretty much killing the Instagram game.
Take, for example, the video Alba posted to Instagram Friday. The 36-year-old Honest Company founder was breastfeeding at the time she took the video, but she did record the sweet post-nursing moment many parents share with their newborns. Hayes, who Alba gave birth to on New Year's Eve, is laying on her chest, seemingly in a deep sleep. She captioned the short Instagram video, "I've never been a morning person... until now. Our morning feeding/cuddle is my favorite time of day. #morningsunshine."
I remember all those morning feedings with my now-toddler son. My nipple would pop out of my son's mouth as he drifted off into dreamland. I would re-position him on my chest and just lay back on the couch, listening to him breath. It was one of my favorite moments to spend with him when he was a newborn.
Then there was that time she breastfed during the Golden Globes, and showed her support for #TimesUp. Alba didn't actually attended the 2018 Golden Globe Awards ceremony (after all, she a little over a week postpartum), but she nursed Hayes while watching the ceremony and wearing black, People reported. She posted a photo of her activist breastfeeding in action with the caption, "Momlife," to Instagram Stories.
At the same time, Alba wrote in a separate post to her Instagram account, explaining her nursing shot, according to People,
#timesup#equality at home nursing my baby boy wearing a black in solidarity with all who demand equality and respect. 👊🏽🖤 #endsexualharassment#equalpay#equalrights#whywewearblack
You may not think it, but nursing can be a radical act. Although research shows the benefits of nursing, breastfeeding is still highly stigmatized in the United States. Parents face a number of barriers to nursing, including a lack of practical and emotional support, as well as being bullied for feeding their babies in public, according to The New York Times. Even though Alba's breastfeeding photo is related to #TimesUp, the underlying themes of equality and respect are essential to better maternal and infant health.
And who could ignore the photos of Alba nursing while she's out and about, living life? As a working mom, I couldn't just take time out of my day to breastfeed my son. I had to multitask like a champ. That's why I love Alba's Instagram post showing her breastfeeding Hayes, her third child with husband Cash Warren, while in a board meeting at the offices of her billion-dollar baby care business, The Honest Company. She captioned the post,
Went into my @honest office today for a board meeting, although I'm still technically on mat leave. Not gonna lie, it's impossible for me to completely unplug from work ...and it felt nice being back -even though it was just a half day. Baby boy came to visit/eat at lunch. Felt very productive today. #workingmom#entrepreneurlife#breastfeedingmama
What working parent hasn't be there, am I right? I've nursed while writing an article, conducting an interview, transcribing said interview, and everything in between.
Another favorite is Alba's Instagram Story post from last weekend showing her breastfeeding Hayes in a Target dressing room, according to Delish. Target's policy is to offer the fitting room to nursing parents, although shoppers can openly breastfeed in any part of the story, Delish reported.
As a strong advocate for nursing justice, I love that Alba and other celebrities are open, honest, and unashamed about nursing their kids. Not everyone can — or wants to — breastfeed, and that's particularly fine. Formula feeding and non-exclusive nursing are just as healthy, because "fed is best." But the more people, celebrities and non-celebrities alike, going public with their nursing stories, the more we can chip away at the stigma that surrounds it.
Check out Romper's new video series, Bearing The Motherload, where disagreeing parents from different sides of an issue sit down with a mediator and talk about how to support (and not judge) each other's parenting perspectives. New episodes air Mondays on Facebook.