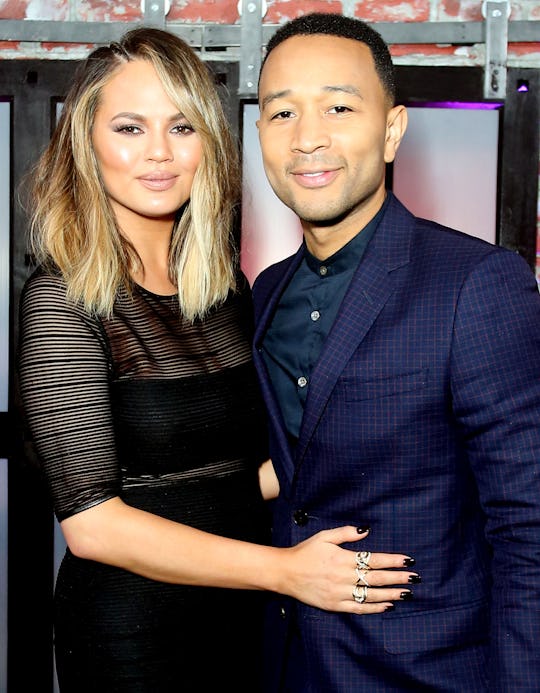 Rachel Murray/Getty Images Entertainment/Getty Images
John Legend's New Video Of Luna & Chrissy Teigen Will Give You Serious Feels
Besides being outrageously talented, beyond beautiful, and, oh yeah, international superstars married to other international superstars, supermodel Chrissy Teigen and Beyoncé boast one other incredibly important commonality: they're both young mothers to one daughter with whom they're absolutely enamored. John Legend's new Instagram video of Teigen and Luna, the couple's 3-month-old, shows that his wife is quite the Beyoncé fan. She's headed to her concert Monday night in Milan — and enjoyed an intimate bonding moment with her daughter listening to a song the singer wrote for her own daughter as she prepared.
Legend posted the video of a makeup-free Teigen kissing and nuzzling with her new baby alongside the caption, "Mommy getting ready for Beyoncé in Milan tonight!" Beyoncé's ballad "Blue," an ode to her toddler daughter from her album Beyoncé plays throughout, and it looks like the whole situation is absolutely enthralling a wide-eyed Luna. And why not? She likely won't attend the Formation World Tour herself (imagine the field day the haters would have with that), but her parents have been heaping lots and lots of love and good jams on her since she was born. And now she's catapulting into the realm of Beyoncé's 4-year-old, Blue Ivy (they're about to start a baby squad as soon as Luna can lift her own head, probably).
Beyoncé released "Blue" in December 2013, when her daughter was just shy of 2 years old. It came complete with a music video featuring adorable footage of Blue Ivy, and its lyrics radiated with the adoration Beyoncé has for her: "My heart beats so damn quick when you say my name/When I'm holding you tight, I'm so alive." And the sentiment that apparently captured Teigen as well when she had Luna in April: "You've got to hold on, you've got a hold on, a hold on me."
If the idea of Chrissy Teigen and Beyoncé mentioned in the same Instagram post — let alone together in one Italian venue as Teigen soaks up Bey's prowess as a performer — was too much for you before, this is probably enough to make your head explode. Beyoncé, of course, is much more private and her image much more tightly controlled than that of the social media-obsessed Teigen, but that doesn't make it any less evident how much these two women love their daughters. It's a long shot, but maybe Legend's next Instagram post will be of Teigen and Beyoncé and Blue and Luna?? Or maybe our hearts just aren't ready for that yet.