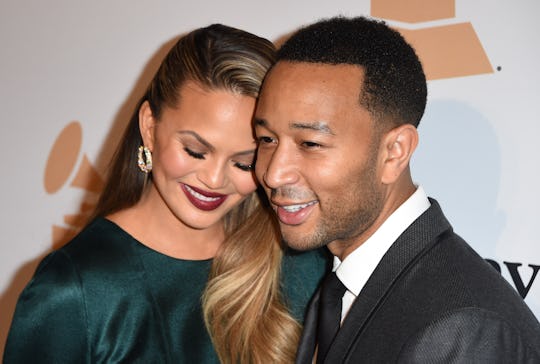 MARK RALSTON/AFP/Getty Images
Chrissy Teigen Baby Jokes That Perfectly Describe How Relieved Everyone Is
Chrissy Teigen and John Legend are really cool. In addition to being a supermodel-R&B singer/songwriter power couple, the pair has been impressively forthcoming with fans about their infertility struggles and decision to use IVF, as well as letting use glimpse (and drool over) their very classy and also instantly epic baby shower that happened at none other than Kim Kardashian's house last month. All that openness has been fantastic, but it's also made fans as anxious and invested as if they were waiting on a close friend or relative's baby. But the wait is finally over: Luna Simone Stephens was born April 14, the couple announced Sunday, and everyone is so relieved, as evidenced by the scores of amazing Chrissy Teigen baby jokes suddenly flooding the internet.
Teigen was already showing when she announced to the world in October that she was expecting her first child, a daughter, and so, naturally, the internet has been counting down the days (and recently even began speculating whether the Cravings cookbook author might be past her due date). We've even offered some advice, but Teigen has shown that she's going to do this baby thing on their own terms (like with the nacho cheese and Mickey D's French fries at that Kardashian baby shower, OMG).
To put it simply, everyone is feeling pretty psyched right now. And happy, and... can we see some baby photos now, please??
Luckily for us, Teigen and Legend have said that they won't hide their daughter (or future children, either!) from social media. Even though we don't have the pics to fawn over just yet, the internet is appropriately ecstatic and responding accordingly:
This fan was obviously concerned about the increased competition in the world, but ultimately seemed happy:
During Teigen's pregnancy (which, unfortunately, did include some misplaced criticism for the couple's preference for a female embryo through IVF), Legend said he's loved watching his wife become a mother, according to Us Weekly:
I think pregnancy in itself is a beautiful thing and it's an exciting thing, and I think we've really enjoyed – or at least I've really enjoyed — seeing what her becoming a mother brings out in her. I think it's beautiful. You start to evolve a bit when you know you have a new life that is growing inside you and you're about to bring into the world.
But now it seems like the adventure is just beginning for these two lovebirds and their growing family. Before she announced her first pregnancy, Teigen told People she would like to have three or four children. "John and I go hard in everything we do," she said. "And we like a bit of chaos."
Certainly, the pair's legions of fans and well-wishers could appreciate a bit of chaos as well, especially if it means more new additions to the Teigen-Legend clan. Never change, Chrissy — and keep us updated!