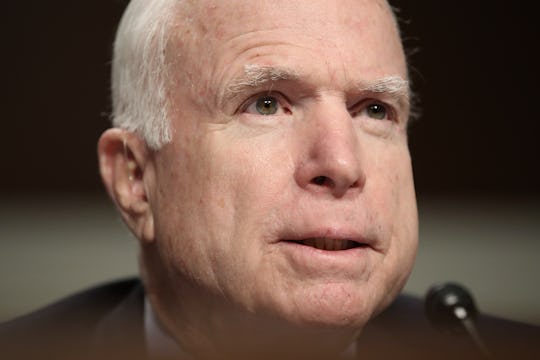 Win McNamee/Getty Images News/Getty Images
John McCain's Final Statement Takes One Last Swipe At Donald Trump
On Saturday, the family of Arizona Sen. John McCain confirmed that the lawmaker and veteran died at 81 years old after a yearlong battle with brain cancer. But before he passed away, McCain had prepared a written farewell, which was shared by one of his aides on Monday. And not only does his farewell touch on his patriotism and service to the United States, but Sen. John McCain's final statement also takes one last swipe at President Donald Trump in defense of the country he undoubtedly loved. (Romper's request for comment from McCain's representatives was not immediately returned.)
McCain and Trump have had a terse relationship over the last few years, with the late senator openly critical of the former reality TV star's politics and policies. Although McCain doesn't name Trump in his final statement directly, he did allude to the volatile direction the United States has headed under Trump's leadership, according to a transcript of the farewell shared by The New York Post.
"I lived and died a proud American," McCain wrote at the beginning of his statement, according to The New York Post. "We are citizens of the world's greatest republic, a nation of ideals, not blood and soil."
The war veteran, who was the Republican candidate in the 2008 presidential election, went on to say in his statement that the United States had "helped liberate more people from tyranny and poverty than ever before in history," and "acquired great wealth and power in the process," according to The New York Post. But, McCain continued:
We weaken our greatness when we confuse our patriotism with tribal rivalries that have sown resentment and hatred and violence in all the corners of the globe. We weaken it when we hide behind walls, rather than tear them down, when we doubt the power of our ideals, rather than trust them to be the great force for change they have always been.
In his statement, McCain also described people living in the United States as "325 million opinionated, vociferous individuals" who "argue and compete and sometimes even vilify each other," according to CNN. He then added:
But we have always had so much more in common with each other than in disagreement. If only we remember that and give each other the benefit of the presumption that we all love our country we will get through these challenging times. We will come through them stronger than before. We always do.
McCain's final statement is a powerful one, and shows how much the decorated war veteran had loved the country he served for decades. He also acknowledged in his farewell the mistakes he had made while "in uniform and in public office," but expressed hope that his "love for America will be weighted favorably against them," McCain said in his statement, which was read by former presidential campaign manager and family spokesperson, Rick Davis, on Monday, according to The New York Post.
He wrote, The New York Post reported:
Ten years ago, I had the privilege to concede defeat in the election for president. I want to end my farewell to you with the heartfelt faith in Americans that I felt so powerfully that evening. I feel it powerfully still.
McCain's final statement also lays bear how the United States is losing its footing under the current administration. But, the late senator continued, that is not something that people in the United States should give in to.
He ended his farewell by offering hope, writing:
Do not despair of our present difficulties but believe always in the promise and greatness of America, because nothing is inevitable here. Americans never quit. We never surrender. We never hide from history. We make history.