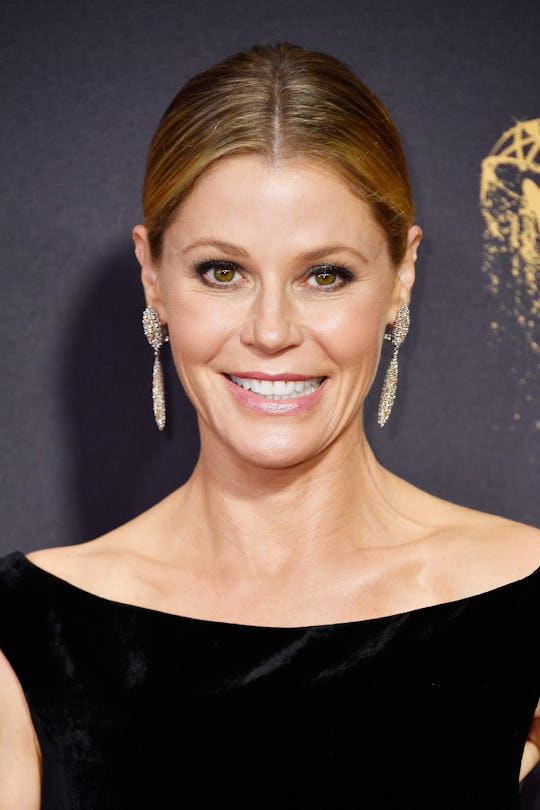 Frazer Harrison/Getty Images Entertainment/Getty Images
Julie Bowen Knows What's Important This Holiday Season (Hint: It's Not Santa)
While my son has certainly changed my view of the holiday season for the better, I still feel a tinge of dread come December 1. I don't mind the relentless holiday cheer, the calls to be jolly and merry, or even the pressure to buy enough presents, make enough Christmas cookies, and put up enough decorations for my son to feel the magic of the season. It's just that I'm, more often than not and as his mother, responsible for it all. Which is why Julie Bowen's tips and tricks for self-care are, arguably, a tad unbelievable. In fact, at first glance they seem impossible.
As a mother, I feel confident in saying that all parents are desperate for a break from the daunting "you must do it all" messaging we're consistently bombarded with this time of year. From fulfilling family obligations to keeping the illusion of Santa alive to giving back to my community to wrapping all the damn presents, my mental health takes a hit during the holiday season. And I'm not alone. According to the Mayo Clinic, the holidays present "a dizzying array of demands," from parties to shopping to cleaning to entertaining, and can increase the risk of stress and depression.
And Bowen, who has 8-year-old twins and a 10-year-old, is no stranger to the demands put on mothers during the happiest time of the year. As a working mom most famously known for her roles as Carol Vessey on Ed, Denise Bauer on Boston Legal, Sarah Shephard on Lost, and now Claire Dunphy on the comedy Modern Family, it's important to Bowen that she not only create the magic her children can feel during the holiday season, but give herself the ability to enjoy it, too. And for Bowen, that means giving back to her community.
"There is some magic to childhood, and I try to preserve it," Bowen tells Romper via phone. "My kids ... they know there's no such thing as Santa, but they let us keep going because they like that magic." Bowen says giving back is part of that magic for her kids, who, among other things, love to be "elves" and hand out toys at charity events with their mom.
"That suspension of reality, when the world is a special place and humanity pulls together no matter what your race, ethnicity, religion, is what Christmas is all about," Bowen adds. "To me, the holidays are about putting pause on your own immediate needs and concerns, and opening your eyes to the community and giving back."
It's the best thing you can do for yourself; to get a big picture view of the world.
And while I was somewhat skeptical when I heard that giving more was actually the key to relaxing during the holiday season, Bowen has found a way engage her children in holiday giving, minimize stress and the obligations of the season, and find self-care in the act of selfless service. "You know, when you work with organizations there's always a moment when I think: 'Why did I sign up for this?' And then there's always a flip side, which is: 'I feel so good about doing it," Bowen says. "And if anybody hasn't has the opportunity to volunteer for any organization, to find out what it feels like to volunteer, do it. It's the best thing you can do for yourself; to get a big picture view of the world."
Bowen has been a longtime ambassador and board member of Baby2Baby, an organization that provides low-income children ages 0-12 years with diapers, clothing, and all the basic necessities that every child deserves. According to Baby2Baby's website, "By distributing to non-profit partner organizations, including homeless and domestic violence shelters, Head Start programs, foster care programs and children's hospitals, Baby2Baby will serve more than 150,000 children in Los Angeles this year, and tens of thousands more across the country through the Baby2Baby National Network."
According to the National Center for Children Poverty (NCCP), about 21 percent of all children in the United States — an estimated 15 million — live in families with incomes below the federal poverty threshold. According to the Organization for Economic Cooperation and Development, only three other countries in the developed world have a higher child poverty rate in the United Sates. On any given day, there are nearly 428,000 children in foster care in the United States, and according to the National Network to End Domestic Violence, on just one day in 2015, over 31,5000 adults and children fleeing domestic violence found refuge in a domestic violence emergency shelter or housing program.
Those statistics alone are daunting, and even more so when you're a parent. That's why Bowen has made giving back to organizations like Baby2Baby an integral part of the holiday season, not just for herself but for her kids.
To me, the holidays are about putting pause on your own immediate needs and concerns, and opening your eyes to the community and giving back.
"I don't think it's in the nature of a child, given their developmental level, to be selfless. The world is about them, and that's a normal part of development," Bowen says. "So you have to meet them where they are."
Of course, that's easier said than done. But Bowen insists that if you make charitable acts tangible for children, they'll be more inclined to participate. In fact, they'll actually be excited about it. "My kids earn points by doing chores, and those points can be put into dollar amounts," Bowen explains. "Those dollars can be used for spending, saving, and giving away, so it's a very tangible concept for them. I keep track of it in a book, each kid has their own color, clearly marked, and they can decide what they want to spend their money on. If they want to spend it on candy at the movie theaters, that's OK because it's their money, but if they want to give it away I match them dollar for dollar. They love it."
According to the National Center for Charitable Statistics (NCCS), there are more than 1.5 million nonprofit organizations registered in the United States. So picking one to volunteer your time, or send financial contributions to, can be a daunting task. But for Bowen, choosing Baby2Baby was easy.
"They started as a small grassroots movement of three moms, and I happen to know one of them," Bowen explains. "And they honestly just said that between the baby showers and the constant gifts and the in-laws, as a mom you'e ending up with three strollers and two bouncy seats and your garage is chalk-full of stuff. And you're done with these items so fast, because your kids grow so fast. They've made it incredibly easy to feel good about giving."
Nobody wants to be the mom, or the dad, that has to do everything.
And for Bowen, "easy" truly is the name of the holiday game. "Don't set yourself up for failure as a mom," Bowen implores. "Set yourself up to succeed, because there's always going to be more teachers, more cousins, more family members on your list. So I can't stress the importance of a Secret Santa group or secret giving group enough, so that everyone is participating but nobody feels like they have to do it all. Because nobody wants to be the mom, or the dad, that has to do everything."
And, of course, it's always worth reminding yourself, as a parent, of what truly matters. For Bowen, and her family, that's experiences. "The glittery lights, and driving around and looking at crazy neighborhoods covered in candy canes, is every bit as fun as getting a present," Bowen says. "Those are the things [your kids] remember, and care about, so much more than actual presents."
As long as you manage your expectations and set yourself up for success, you and your family can make a difference in the lives of those far less fortunate than you, and preserve the magic of the holiday season.
If you're interested in giving to Baby2Baby this holiday season, you can donate through their website, or purchase a holiday card from one of Tiny Print's exclusive charitable holiday card collection, benefiting Baby2Baby.