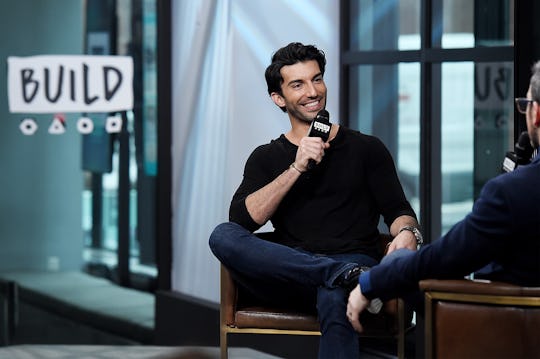 Nicholas Hunt/Getty Images Entertainment/Getty Images
Justin Baldoni Says It's Feminism That Has Taught Him To Be "Man Enough"
Justin Baldoni is having a moment. And by "moment," I mean it's a big one that everyone kind of hopes never, ever goes away. That's because the 34-year-old actor, director, father, husband, and, perhaps most of all, inspiring human, is doing some pretty amazing things. Plus the Jane The Virgin star's most recent endeavors are ones that lean on a role that lies outside of the one that lies within the television screen — parenthood.
Baldoni and his team at Wayfarer Entertainment — which he co-founded along with Ahmed Musiol — recently launched a PSA for parents to promote Child Safety Pledge, an initiative that is working to empower youth-serving organizations, funders, and families to take charge in preventing child sexual abuse.
"It's an epidemic," Baldoni tells Romper of the number of children who have been or are being sexually assaulted. "We wanted to make sure that parents were having a chance to ask questions and ensure they were educated, armed, and protected moving forward."
The PSA features Baldoni's wife, Emily, along with other parents who are encouraged to say what child safety means to them before being asked a series of questions about child sexual abuse.
"Do you know the statistics of child sexual abuse in America?" someone off camera says to each of the parents, to which all of them respond, "no."
"I don't think we've actually sat down and talked about warning signs or what questions to ask or what conversations to have," Emily Baldoni says in the video.
There's also Megan, mom of three, who when asked whether or not she knows if her kids' schools have run background checks, says, "That is such a good question. No, I don't know — that's scary."
Emily Baldoni adds, "I've never run a background check, no. I feel like the worst mom."
It's true: The statistics are staggering and enough to make any parent concerned. According to the Child Safety Pledge, "one in 10 children will be victims of childhood sexual abuse before their 18th birthdays, facing lifelong repercussions on their social and emotional well being."
There's more: 20 percent of the children who are sexually abused are abused before the age of 8, and 60 percent of children who are sexually abused never tell everyone, according to the Child Safety Pledge mission statement.
60 percent.
The PSA aired at the end of the most recent episode of Baldoni's "Man Enough," a Facebook show that serves as a discussion between men in regards to modern masculinity, what it means in today's society, and how the the next generation of men can be shaped by a movement like #MeToo.
"I think if we harness [masculinity] differently it can be used to go deep and figure out our flaws, maybe even those things that we were raised with that don't serve us anymore," Baldoni says in a phone interview with Romper. "And that can help us become better men and in turn better allies to women, as well as better partners, husbands, friends, and sons."
Baldoni says these conversations translate directly into parenthood because that's where the work begins in terms of shaping the adults children will become.
"Being a parent is the first line of defense into changing the behavior of young boys and eventually men," he says. "It starts with parenting and education — the way we talk to our children and the way we educate our children."
In terms of his own journey, Baldoni says rediscovering himself as a man has been a huge part of his life "because that directly impacts and affects my marriage and who I am as a father. The man I am in the world can't look different than the man I am at home. They have to be the same — I have to be the same person."
That internal conversation became a bigger one, and it's one viewers have a chance to see play out on "Man Enough."
"I believe so many men are dealing with something similar and maybe we just aren't even aware of it," Baldoni says. "The second you become aware, you become responsible — and to a certain extent I hope that we as men can collectively become more responsible."
He quotes his friend Tony Porter, a fellow TED speaker and founder of A Call To Men, who reminds men, "we're not calling you out." Instead, Baldoni says, "We are calling you in to recognize that we can do better together. It's an act, an invitation."
And it's one that he says he would have never had the platform to speak about had it not been for the opportunity he was given to be on a show like Jane The Virgin.
"I got so lucky to be on a show that is really a feminist show that features strong women, deals with morality, and every episode at its core is really about family — three generations of it," he says. "I couldn't have been given a more perfect situation or a perfect show for who I am."
And Baldoni says of the show's primarily female audience, "Women are the ones who amplified my voice; it wasn't men — it was women." Which is reason enough to say more of Justin Baldoni and whatever he's up to next, please.