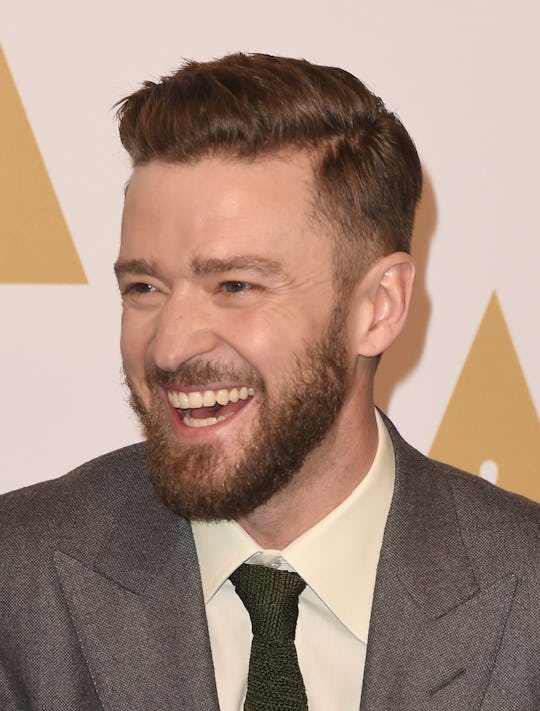 Kevin Winter/Getty Images Entertainment/Getty Images
Justin Timberlake Adorably Describes Fatherhood
The youngest member of the '90s boy band phenom NSYNC, the one who cultivated an illustrious career as a solo artist and screen actor as an adult, can hardly remember a time when he wasn't famous. But a new interview with The Hollywood Reporter, Justin Timberlake talks about fatherhood and reveals that he wouldn't necessarily want the same whirlwind lifestyle for this own young son. Even though Timberlake has won nine Grammys and released 10 top-10 singles since striking out on his own in 2002, he told the magazine's Benjamin Svetkey that he could teach little Silas "a lot about what not to do," if the 22-month-old does one day decide to go the pop star route like his father.
Although he's not yet old enough to understand the all-encompassing star power of his celebrity parents (Timberlake married actress Jessica Biel in 2012), he's already a source of inspiration and cause for introspection for his famous dad. In fact, Timberlake said that his son was the reason he wrote his latest hit, Can't Stop The Feeling! Featured in the November children's animated film Trolls, the upbeat disco tune earned Timberlake the top spot on the charts for the first time in a decade. "I'd never have written it if it weren't for him," he told The Hollywood Reporter — a sentiment he's expressed before. Now, Can't Stop The Feeling! is nominated for an Oscar.
And even for a man who is breathtakingly multitalented as an entertainer, fatherhood proved to be an overwhelming balancing act, at least at first. Timberlake catapulted to worldwide notoriety as a teenager with NSYNC, has sold 26 million albums as a solo artist, wowed audiences (and directors) with the ease and dynamo of his Saturday Night Live appearances, and even just wrapped filming on a super secret production with Woody Allen. All that success, however, did not fully prepare him for the more common experience of having a child. "At first, it broke me down," he told Svetkey. "Those first eight months felt like those old [Ed Sullivan] shows where people are balancing spinning plates on poles — except if you drop one, they die."
JT has clearly embraced his relatively new role of father wholeheartedly, though. "When you have a kid, and there's poop, you gotta get in there!" he said in a radio interview in May. "Nothing trumps your kid's cleanliness so you just have to get in there!" And he and Biel are apparently doing their best to protect Silas from too much public exposure before he's ready, as well: Timberlake sporadically posts photos of the boy to Instagram, for example, but they rarely show his face.
If Silas grows up to be anything like his dad, though, the world will be seeing a lot of his face, maybe even for decades. And introducing the next generation of JT into the mix can never be a bad thing.