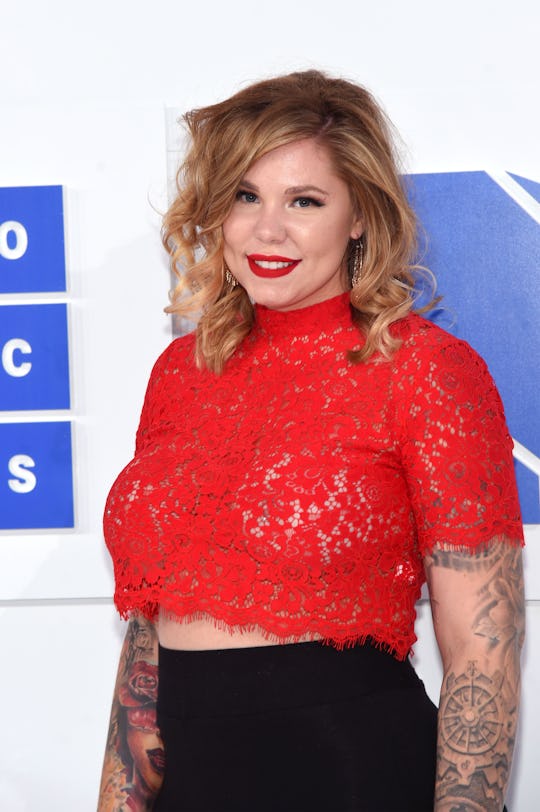 Jamie McCarthy/Getty Images Entertainment/Getty Images
Kailyn Lowry's Net Worth Shows She's All Set To Raise Her Boys
Earlier this month, Teen Mom 2 star Kailyn Lowry gave birth to a healthy baby boy. "Baby Lo," as the reality show personality is calling her newest addition to the family, joins two older brothers. As any parent knows, raising kids can get pretty darn expensive, but Kailyn Lowry's estimated net worth indicates that, from a financial standpoint, she's probably all set to raise her three boys — especially because she's still a part of the hit MTV show.
Lowry welcomed Baby Lo, whom she shares with Chris Lopez, Aug. 5. Based on the adorable pics of the two that have since graced social media, both mom and baby are doing well — but that wasn't always a given. "There were fears throughout the pregnancy and that's why I was hesitant to announce it in the first place," Lowry, who had a miscarriage before, told Radar Online in a recent interview.
When Lowry announced her pregnancy in February, she shared that she waited to make the news public because she had been experiencing health complications and that the pregnancy was high-risk.
Of course, what's most important is that Baby Lo, whom Lowry hasn't officially named just yet, is doing well. Beyond that, it surely takes some of the pressure off Lowry to know that she has a nice nest egg to take care of her boys, including 7-year-old Isaac and 3-year-old Lincoln. According to the CelebrityNetWorth.com, Lowry's net worth is somewhere in the ballpark of $25,000. The team there estimates the net worth of celebrities by analyzing publicly available information such as salaries, real estate holdings, divorces, record sales, royalties, and endorsements. So, this figure is not official, and Lowry herself has not confirmed it. It's important to remember, though, that celebrities and unknowns alike are more than just the figure in their bank accounts, and the 25-year-old mom is also an author and a recent college graduate with big plans for her future.
It's pretty safe to say that much of her wealth stems from her work on Teen Mom 2. Networks tend to keep their stars' compensation under wraps, but The Hollywood Gossip reported that Lowry was making $75,000 per episode plus a $20,000 bonus in 2013, and guessed that the figure had risen to about $300,000 by February 2017. Those are some pretty nice sums, but it's tough to know for sure how accurate they are.
Still, Lowry isn't hinging her future entirely on her participation in the MTV hit. Already the author of two nonfiction books and a children's book called Love is Bubblegum, she also graduated from the University of Delaware with a Bachelor's degree in mass communications in May.
Back in 2014, Lowry filled Wet Paint in on some of her career goals:
If the opportunity arises I would love to be a host at some point. I'm willing to work to get there and do behind-the-scenes production and that kind of stuff.
Whatever Lowry decides to do, she'll have her three boys along for the ride.