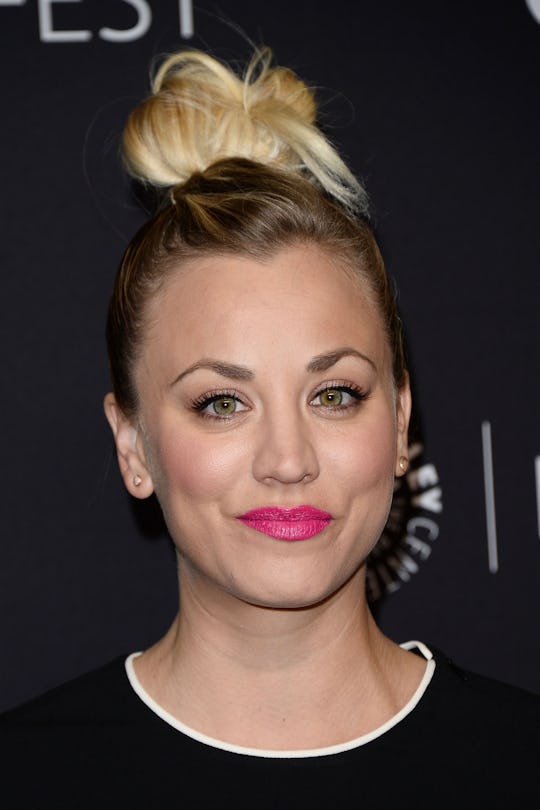 Matt Winkelmeyer/Getty Images Entertainment/Getty Images
Kaley Cuoco Criticizes Cincinnati Zoo For Killing Harambe The Gorilla
People around the world are still reeling after viewing a recently-uploaded video showing an unnamed 4-year-old boy being dragged by a 400-pound gorilla in his enclosure at the Cincinnati Zoo on Saturday. The gorilla, 17-year-old Harambe, can be seen holding the young boy, who had fallen into the gorilla exhibit, and repeatedly yanking him through water, as bystanders can be heard yelling frantically in the background. Based on the nature of the situation and their expertise, the Cincinnati Zoo has since released statements explaining its difficult decision to shoot and kill Harambe, in order to save the 4-year-old's life. But that decision has been met with severe backlash and anger, including from Big Bang Theory actress Kaley Cuoco, who used her Instagram account to express her dismay. Cuoco criticized the Cincinnati Zoo for killing Harambe, but pointed to something of a morbid silver lining in the gut-wrenching decision.
In the Instagram photo published Monday, Cuoco referred to the recent incident as "senseless," blamed people for "not using their brains," and insisted that the gorilla was holding the 4-year-old's hand – and not being violent. But towards the end of her post, she expressed that she was also happy that Harambe would no longer be in captivity:
"RIP #harambe Im sure I will get tons of backlash (per usual) I mean let's be honest, I wear the wrong sweatpants and the entire world has something to say about it, but once again , another senseless horrendous animal being killed over people not using their brains. If you watch the footage, you see this gorgeous animal holding that child's hand. Do with that ,what you will. As sad as this makes me, a part of me is happy for that amazing creature doesn't have to live in captivity another day. Bring on the hate!!!!
Cuoco joins a long list of people outraged over Harambe's death. Many questioned why the zoo staff didn't use a tranquilizer instead. But the zoo's director, Thane Maynard, has since explained that using a tranquilizer would have further put the boy's life in danger.
"The idea of waiting and shooting it with a hypodermic was not a good idea," Maynard said at a press conference according to People. "That would have definitely created alarm in the male gorilla. When you dart an animal, anesthetic doesn't work in one second, it works over a period of a few minutes to 10 minutes. The risk was due to the power of that animal."
Emotions over Harambe's death have led an internet mob against the boy's mother, who was at the zoo with him. People have been attacking her for not preventing her son from falling into the gorilla's enclosure, and ultimately faulting her for Harambe's death. An online petition, garnering 350,000 supporters so far, was created to call for an investigation into the 4-year-old's home life – suggesting parental negligence. And as the New York Daily News reported, the father's reported criminal history has even made its way into the conversation, though it seems he may not have been at the zoo on Saturday.
Unfortunately, a lot of the attacks on the 4-year-old's parents, especially before the details of the incident were clear, reveal the dangers of Internet mobs, and the inconsistencies of outrage over tragic shooting deaths (like 12-year-old Tamir Rice who was shot and killed by a police officer outside a recreation center in Cleveland not too long ago, but whose death unfortunately elicited a wider range of forgiving responses).
While Cuoco's sentiments — being upset about the animal in captivity rather than placing specific blame on the mother — seem to be less harsh than others, it's still important for the public to listen to the experts and hear what they have to say about the situation, rather than jumping to erroneous conclusions without all the facts.