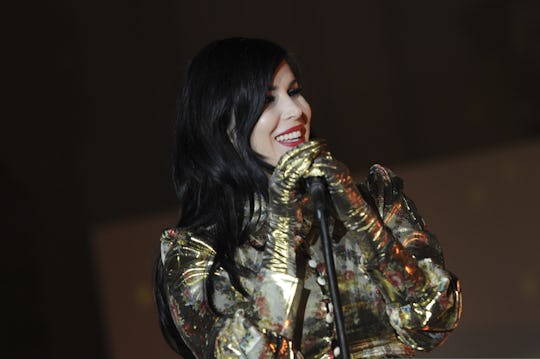 Vivien Killilea/Getty Images Entertainment/Getty Images
Kat Von D Has Responded To Backlash Over Her Decision To Not Vaccinate Her Baby
Earlier this month, Kat Von D revealed in an Instagram post that she wouldn't be vaccinating her baby and heated backlash from fans quickly followed, flooding her comments section to voice their outrage at her decision. The pregnant makeup artist — who is expecting her first child, a son, with husband, Prayers musician Leafar Sayer — has since responded to the revelation that got people heated. In a lengthy post shared last week, Kat Von D said she's "not against vaccines," despite saying she wouldn't be vaccinating her own child.
The tattoo artist and model first shared an Instagram post on June 7, showing her pregnant belly and a message that she wasn't interested in people's unsolicited advice when it comes to her unborn child. She wrote in the caption, "And, if you don't know what it's like to have the entire world openly criticize, judge, throw uninformed opinions, and curse you — try being an openly pregnant vegan on Instagram, having a natural, drug-free home birth in water with a midwife and doula, who has the intention of raising a vegan child, without vaccinations."
Editor's Note: The Instagram post has since been deleted.
While there didn't appear to be any push back from fans over wanting a home birth or using a midwife or raising her child vegan (probably because these are relatively common practices, of course, and only affect their lives, and not a greater community), the idea that Von D wasn't planning to vaccinate her son caused an onslaught of criticism, as BuzzFeed News reported.
Despite the fact that Von D appeared to explicitly tell people she had no interest in their opinion about any of her statements in that post, they did not hold back about their thoughts on her decision not to vaccinate her baby. The outrage was warranted as it's a decision that is so vitally important, not just for her own child but for other vulnerable children he might come into contact with down the road, as well as those with comprised immune systems.
People were not impressed, and quickly took to social media to call the beauty influencer out and suggest a boycott of her products. (Romper's initial request for comment from Kat Von D, LVMH, and Kendo, the houses that manage her cosmetics line, regarding the reported boycott were not immediately returned.)
While there are some parents who believe that vaccines are dangerous for children, the Centers for Disease Control and Prevention has a dedicated web page solely to help parents understand the truly important reasons why children should be vaccinated. Vaccines protect them from preventable diseases that can be very dangerous, or even deadly, keep the herd immunity intact, and help avoid a possible outbreak, as the CDC advises.
After a few weeks of criticism from her fans, Von D has further addressed her thoughts on vaccines. She took to Instagram last week to tell her followers that she and her husband are "not against vaccines," but they have "hesitancies and valid concerns" when it comes to their child. As she wrote in the caption on a pic of the couple holding hands:
My husband @prayers and I are NOT anti-vaxxers. We are not against vaccines. Just because we have hesitancies and valid concerns about injecting our baby with specific chemicals and toxins does not mean we are anti anything.
Von D went on to say that she doesn't think all medications are "bad," but was still questioning vaccinations:
There are plenty of studies that show some vaccinations can work wonders. And there are also studies that show some people [including mothers, and babies] may be more susceptible to vaccine injuries more than others... It's unfair for anyone to expect me [or any parent] to take the word of the pharmaceutical companies who have much to gain from and industry worth billions without question - and then have to dismiss any concerns of my own.
It should be noted that countless studies have shown that vaccines are effective, of course, according to the CDC, which Von D herself addressed in her Instagram post.
Von D is a first-time mom who is clearly trying to figure out the best thing for her baby. However, given her celebrity and ability to influence others with her decisions, it makes sense that so many of her followers addressed this choice as they did. While fans might be interested to see what decision she makes, given that she has turned off the comment section of her Instagram post, it seems that she does not want to discuss the topic further.