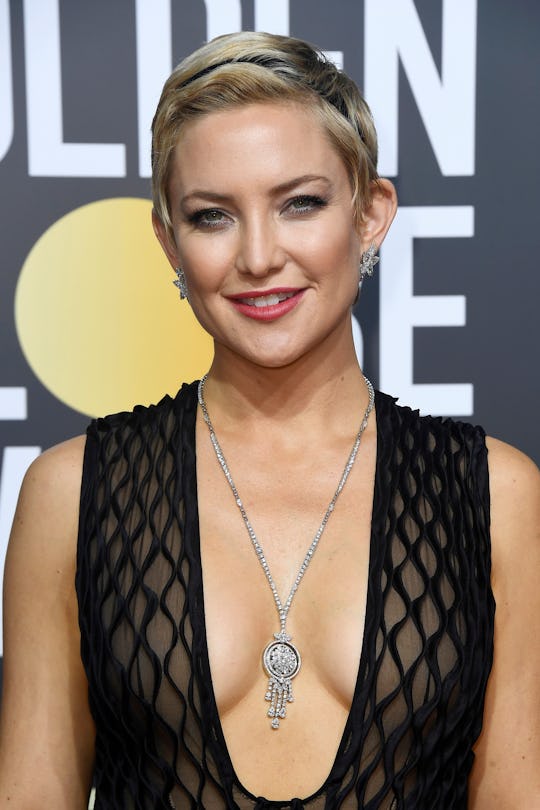 Frazer Harrison/Getty Images Entertainment/Getty Images
Kate Hudson Is *Glowing* In This New Selfie Of Her Growing Bump With Baby No. 3
Kate Hudson may have kept her pregnancy with her third child on the DL at first — but now that everything is out in the open, the actress and expectant mother is keeping fans super updated. On Thursday, for example, Kate Hudson shared a new selfie of her growing bump. And in the photo, it's hard to ignore her pregnancy glow.
In the mirror selfie, which Hudson shared on her Instagram story Thursday afternoon, she appears to be posing in a home gym. The photo is captioned, "Happy belly," and it features Hudson standing over a bench press, and wearing a sports bra and leggings with the band rolled down to show off her bump, which she's gently holding. She also seems to be rocking the #nomakeup look.
Hudson opened up about her pregnancy exercise regimen and her health in an interview with People earlier this month, explaining that she has had more morning sickness and physical challenges with this pregnancy than with her first two pregnancies. So, she has been taking things a bit slower when it comes to exercising by doing lower-impact activities, such as walking and prenatal yoga, as she explained to People.
She told People:
The stakes are higher because it is not about you anymore, it is about this other being growing inside of you, but right now she is kind of letting me know that we have to take it easy ... I'm doing a lot of walking, I'm doing some amazing prenatal yoga that I'm loving, which I've never done with my pregnancies. So this is a first and it's been amazing, but slow and steady.
Doing low-impact exercises has definitely been a change for Hudson, who is a big exercise aficionado. In particular, she is a big fan of Pilates — she has even shared her pilates routine on Instagram, as reported by Women's Health. Additionally, in her 2016 lifestyle book Pretty Happy: Healthy Ways to Love Your Body, Hudson detailed her exercise schedule, as Health reported. In the book, she revealed that she typically exercises four or five days a week for 30 to 60 minutes, alternating all different kinds of work outs.
So even though Hudson's body is telling her she should not be exercising quite as hard as usual during her pregnancy, her new mirror selfie makes it clear that she's not totally slowing down and she's working out in a way that works for her. In fact, exercising during pregnancy is totally healthy — as long as you get your regimen approved by your doctor. The American Congress of Obstetricians and Gynecologists recommends that pregnant women consult with their doctor about their workout routine.
This is not the only bump shot Hudson has shared as of late. Last week, she Instgrammed a photo of herself lounging on a couch, holding up her sweater to reveal her bump. "#ShesGettingBig," Hudson wrote alongside the shot on Instagram.
And last month, Hudson shared another bump shot, but from a very different angle. "A different kind of beach bod brewing👙," she captioned the shot of her bump, taken from above.
Hudson has not yet revealed her due date, but signs point to sometime in the fall. In early April, Hudson announced she was expecting a baby with her boyfriend Danny Fujikawa by sharing an Instagram video from their sex reveal party. She wrote alongside the clip:
We have been trying to keep this pregnancy under the radar for as long as possible but I'm a poppin now! And it's too darn challenging to hide, and frankly hiding is more exhausting then just coming out with it!
She was likely at least three months pregnant in that video (given that most women wait until after their first trimester to announce the news), meaning that she could possibly give birth by October. Fans will just have to wait and see — but in the meantime, you can probably count on a few more bump shots.