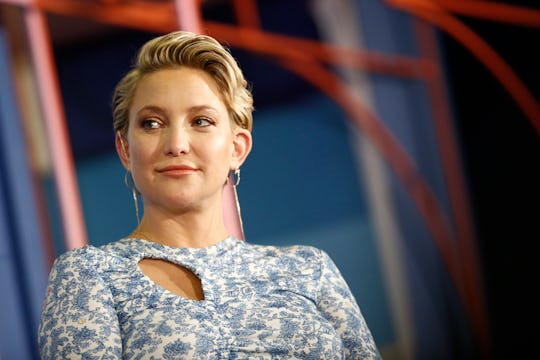 Brian Ach/Getty Images Entertainment/Getty Images
Kate Hudson's New Pic Of Daughter Rani Is Pure Magic
There's nothing like the scent of a new baby, is there? Honestly the downy head of a tiny human is probably the most wonderful, precious thing in this whole wide world, perhaps especially if that tiny human is your baby. Because who hasn't looked down at their baby and been overwhelmed at this fierce love? It's an emotion so big, the only thing you can do is something tiny... like kiss that little head, smell that baby smell, and wonder at your good fortune for being a mom. This is what I see in Kate Hudson's new pic of daughter Rani: a woman who is simply marveling at the wonder of being a mother.
The Fabletics mogul and her boyfriend, Danny Fujikawa, welcomed daughter Rani Rose Hudson Fujikawa on Oct. 2. Rani is the first child for musician Fujikawa and the third for Hudson, who is also mom to 14-year-old son Ryder from her marriage to musician Chris Robinson and 7-year-old son Bingham with ex-partner Matt Bellamy. The couple have been keeping something of a low profile in the weeks since Rani's birth, taking a few moments after she was born to share the inspiration behind her name with Hudson's Instagram 9 million followers, "We have decided to name our daughter Rani (pronounced Ronnie) after her grandfather, Ron Fujikawa. Ron was the most special man who we all loved dearly. To name her after him is an honor."
So what have the couple been up to with their new baby, you ask? From the looks of their few pictures on social media, they've simply been basking in the glow of their love for their new baby. Hudson's most recent shot was a black-and-white photo of her kissing the top of baby Rani's head with her eyes closed. She captioned the picture with a quote from the poet Rumi:
"Love is not an emotion, it's your very existence"
This is the kind of photo that might make another woman feel those cravings for a little baby of her own to kiss and smell and cuddle up with under the blankets. Which could be why Goop queen and mother of two Gwyneth Paltrow wrote in the comments, "Can I come over?" I mean, she did just get married to Brad Falchuk, as People reported... maybe she's feeling those good old baby cravings?
You can see how Hudson's Instagram feed might encourage a person to want another baby, I'm sure. Even new dad Fujikawa is spreading the love. Last week Hudson shared a sweet video of the proud dad murmuring to little Rani and looking so incredibly at peace.
It's actually quite something to see Kate Hudson (who made a name for herself as a bubbly ball of energy with her first movie role in Almost Famous years ago) so calm and peaceful. So ready to just be present, to slow down and enjoy the space she happens to be in right now.
This is what babies can do sometimes. Not every day of course, but every once in awhile... loving a baby really is magic.