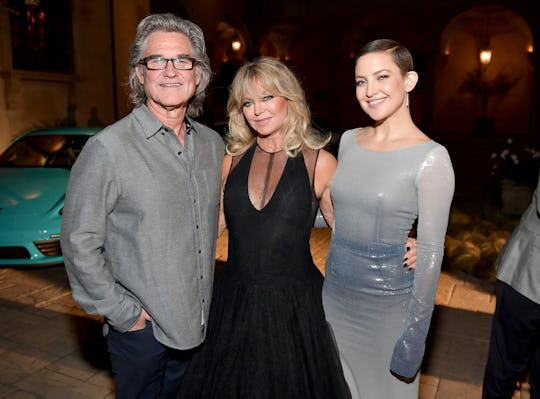 Neilson Barnard/Getty Images Entertainment/Getty Images
Kate Hudson's Pic Of Daughter Rani With Goldie & Kurt Is Pure Magic
Kate Hudson is in a seriously enviable position these days. She just welcomed her first daughter with her boyfriend, musician Danny Fujikawa, in October (an exciting addition to her two older sons, 14-year-old Ryder and 6-year-old Bingham). She is at that stage in life where she seems to know what she wants, and what she wants looks to be loads of time with family. Who can blame her? She does, after all, have a pretty amazing family. In fact, Hudson recently shared a pic of daughter Rani with grandparents Goldie Hawn and Kurt Russell, and honestly their family couldn't look any happier to be together.
Rani Rose Hudson Fujikawa was born on Oct. 2, which means she'll be just under three months when the holiday season hits at the end of December. And it looks as though two people in particular are excited to see their sixth grandchild (and second granddaughter) celebrate her first Christmas: Hawn and Russell. The legendary couple were looking pretty cozy snuggling with baby Rani in a snapshot the Fabletics mogul shared on Instagram on Friday. Please take a moment to appreciate the sheer joy on Goldie Hawn's face as she looks down at her granddaughter.
Hudson captioned the photo:
Grandma and Grandpa duty... or should I say Mr. and Mrs. Claus. #IKnewIt
I'm going to assume Hudson is referring to Russell's new Netflix movie, The Christmas Chronicles, or Hawn and Russell are actually Santa and Mrs. Goldie Claus. I'm good either way.
The famous grandparents were seen most recently out en masse with most of their brood (minus Kate Hudson's family, perhaps on account of the fact that she had a tiny baby at home) to celebrate the premiere of Russell's movie. With them were Hawn's son from her marriage to Bill Hudson: Oliver Hudson, with his wife and three children (11-year-old son Wilder, 8-year-old son Bodhi, and 5-year-old daughter Rio), as well as the couple's son Wyatt Russell and his girlfriend. Despite the fact that little Rani wasn't at the premiere, Russell told People the proud grandparents were really excited to spend her first Christmas with her:
She is the sixth grandchild, Kate's first daughter. And along with the other five now, it is obviously a fantastic addition, and it will be fun just to watch her little eyes looking at the lights on the Christmas tree and taking it all in for the first time.
Russell also hinted that the family would probably head to Aspen, Colorado to enjoy the holidays together in the snow:
We have great joy, great tears, meltdowns, arguments, great laughter. It is a wonderful period of time, and we happen to be lucky enough where we are in a great setting in Colorado, and it is beautiful place to be.
It can't be easy, trying to hold a family together in the entertainment industry. Especially considering the fact that all of Hawn and Russell's offspring are actors. But this family makes it work. By the simple act of just hanging out with each other, loving the kids, and letting good things happen.
This first-time mom wants to have a home birth, but is she ready? Watch how a doula supports a military mom who's determined to have a home birth in Episode One of Romper's Doula Diaries, Season Two, below. Visit Bustle Digital Group's YouTube page for the next three episodes, launching Mondays in December.