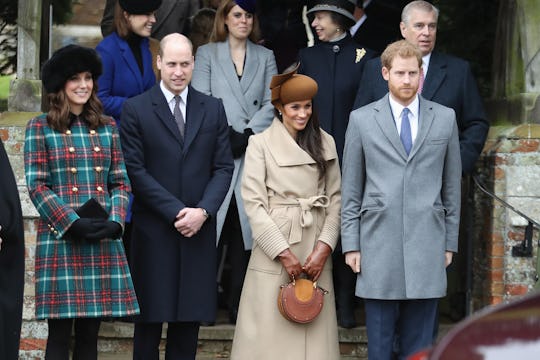 Chris Jackson/Getty Images Entertainment/Getty Images
Kate Middleton & Meghan Markle's Christmas Tree Will Make You *Green* With Envy
I have always wanted to spend Christmas in the United Kingdom. Maybe it's based on my deep, abiding love of everything Jane Austen ever wrote or said, or watching Bridget Jones' Diary (a total Christmas movie, watch it again and you'll see), or reading A Christmas Carol by Charles Dickens. And then, of course, there's Love Actually. But as much as I might love to spend Christmas anywhere in England, I would really prefer to do so as an honored guest of the British royal family. Why, you ask? Well, just look at Kate Middleton and Meghan Markle's Christmas tree as a small example of how they know how to decorate for the holidays. Plus, I hear they give great gag gifts and play Charades, so you know I want in on that action.
Both Middleton and Markle are currently living on the grounds of Kensington Palace with their respective princely husbands, William and Harry, although Markle and Prince Harry are planning on moving to Frogmore Cottage on the Windsor Estate in the new year. The couple are expecting a new baby in 2019, after all, and their current home in Nottingham Cottage at Kensington Palace is only a 2-bedroom, as Harper Bazaar reported. Hence the move... and the last time the official Kensington Palace Christmas tree will be decorated in honor of both couples. But don't feel bad, guys, it's a really good one.
Despite loads of rumors that there is enmity and strife between the couples (which have officially been dismissed by Kensington Palace), this shared 30-foot Christmas tree should show naysayers once and for all that the two couples are getting along just fine, thank you very much. And for those people out there who aren't willing to use a perfectly beautiful shared Christmas tree at a palace as a symbol of familial harmony, please consider Exhibit B: the Duke and Duchess of Cambridge are reportedly rearranging their schedules to spend Christmas with the Duke and Duchess of Sussex.
Elle reports that the couple tend to spend one year celebrating Christmas with the royal family at Sandringham Estate and the next with the Middletons at Buckleberry Manor. Of course, we all remember they hosted Prince Harry and his then-fiancee Meghan Markle at Anmer Hall close to Sandringham last year, taking part in the royal festivities. But this year they are reportedly planning on spending the holidays with Markle and Prince Harry again. As per The Mail on Sunday, a palace source reports that "Everyone is in Norfolk this year."
I mean, I'm sort of sad that spectacular Christmas tree at Kensington Palace will be all alone. But mostly I'm happy the two brothers and their wives will be together, along with the children. I mean, even Markle's mom, Doria Ragland, has reportedly been invited to Christmas by the Queen herself. So this should be a pretty memorable occasion.
Oh, to be a guest at the royal family's Christmas. Doria Ragland is one lucky lady... it makes me wonder if I should start grooming my sons to wed a princess or something, years down the road. It could be my only shot.
This first-time mom wants to have a home birth, but is she ready? Watch how a doula supports a military mom who's determined to have a home birth in Episode One of Romper's Doula Diaries, Season Two, below. Visit Bustle Digital Group's YouTube page for the next three episodes, launching Mondays in December.