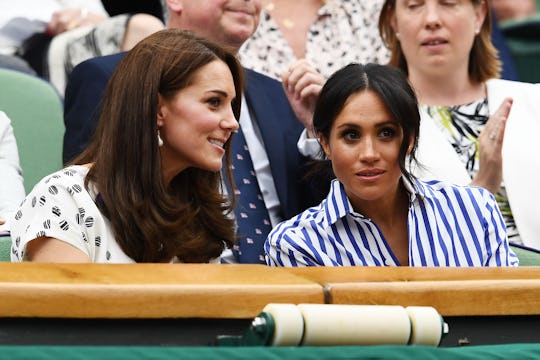 Clive Mason/Getty Images Entertainment/Getty Images
Rumors About Kate Middleton & Meghan Markle Prompt Statement From The Palace
People just don't like to have nice things, I guess. After months of fully embracing the glorious reign of the royal family's Fab Four, Prince William, Kate Middleton, Prince Harry, and Meghan Markle, it seems as though the rumor mill is desperate to ruin it. In the one week since Kensington Palace announced Meghan Markle and Prince Harry would move to Frogmore Cottage in Windsor, the internet has been lighting up with media reports that there is a huge rift between the two women. So much so, in fact, that Kate Middleton and Meghan Markle's rumored feud prompted a curt statement from Kensington Palace, which is a rare thing indeed.
The statement stemmed from a recent story printed in the British newspaper The Sun. The original report in the publication quoted unnamed sources who said that Kate Middleton had called Meghan Markle out for allegedly "berating" members of her household staff at Kensington Palace. This isn't the first time in the past week reports have surfaced claiming severe tension between the sisters-in-law, but this was the report that finally had the palace stepping forward to acknowledge the rumors. The Sun claimed that Middleton was "furious" at Markle for supposedly speaking harshly to her staff and was reported as saying, "This is unacceptable, they're my staff and I speak to them."
Kensington Palace' official statement on the report, as per The Sun: "This never happened."
Romper has reached out to Kensington Palace for comment and is waiting for a reply.
Middleton herself seemed to refute the claims that she and Markle are at odds with each other when she attended an event in Leicester to pay her respects to victims of a tragic helicopter crash earlier this week. When the Duchess of Cambridge was asked about Markle's baby, who is expected in the spring, Middleton enthusiastically said she was very "excited" about her new little niece or nephew, as per Travel and Leisure:
It's such a special time to have little kiddies, and a cousin for George and Charlotte, as well, and Louis. It's really special.
It sounds to me as though people might be reading a whole lot into some very small, normal rites of passage for any couple, like moving into a new home to get ready for the arrival of their new baby. The rumors about a fracture between the two couples really went into high gear once Kensington Palace announced the Sussexes would be moving to Windsor instead of taking over the apartment next to Prince William and Kate Middleton in the palace, as Cosmopolitan reported. But I suspect people forget the Cambridge family were mostly based at Anmer Hall, their own country retreat, when they first welcomed Prince George five years ago, according to E!.
In fact, Middleton has retreated to Anmer Hall after the birth of all three of her children, perhaps because she needs a break from the limelight. And who could blame her? Who could blame any of them?
Perhaps instead of spreading vile rumors that could seriously damage a family who has arguably been incredibly close for years, can't we just talk about how much we love their clothes and hair and stuff? Please?
This first-time mom wants to have a home birth, but is she ready? Watch how a doula supports a military mom who's determined to have a home birth in Episode One of Romper's Doula Diaries, Season Two, below. Visit Bustle Digital Group's YouTube page for the next three episodes, launching every Monday starting November 26.