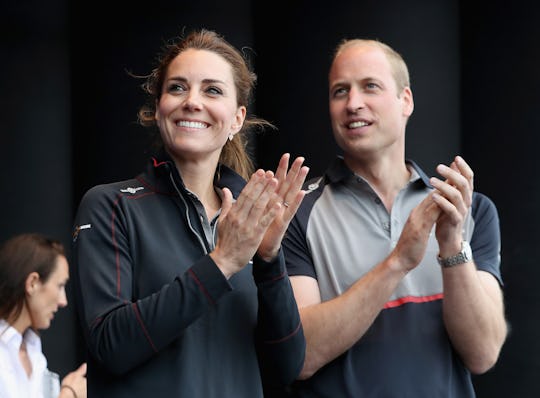 Chris Jackson/Getty Images Entertainment/Getty Images
Kate Middleton's Favorite Shoes Are On Sale RN So Stop Everything
Have you ever wanted to look exactly like Kate Middleton? What a silly question, of course you have. Her perfect, glossy hair, her eyebrows (I know it's weird to covet someone's eyebrows but come on), and above all, her wardrobe. Because she's one of those women who wears dresses and jeans and tiaras and sneakers with equal comfort and ease. Well, I can't really help you with the hair or the tiaras, but here's what I can help you with: footwear. Kate Middleton's favorite sneakers are on sale right now, so you can basically be exactly like her for a discounted rate and don't even thank me, I know you're grateful.
Here's one way you might want to consider yourself luckier than Kate Middleton: Sure, she's married to the future King of England, her three children look like they come from a warehouse that designs rosy cheeked cherubs, and she lives in a for real palace. But does she get to dig deep into post-Thanksgiving/Cyber Monday deals? (Guys, she doesn't even get to celebrate Thanksgiving... can you even imagine?) Fortunately for you, Cyber Monday deals are still happening even though Cyber Monday was many days ago. And because of this, you can get yourself a pair of Middleton's favorite sneakers for the low, low price of $40 (or less!).
Middleton is a longtime fan of the Superga Cotu Sneaker ($36 to $42, Nordstrom) a casual cotton/canvas shoe made in Italy (because of course) with leather uppers that usually sell for upwards of $65. But right now at Nordstrom, guess what? Select colors of those sneakers are on sale for up to 60 percent off, depending on color/print.
I bet Middleton paid full price for hers. Although perhaps not... she is a fan of recycling wardrobe items, after all.
If wanting to dress like the Duchess of Cambridge without having to go through the expense and hassle of buying a tiara isn't enough incentive, apparently these shoes are also super comfortable and go with pretty much any outfit you can imagine. They have a 4.5 star rating at Nordstroms and the reviews are all enthusiastic:
Perfect shoe to wear with jeans and leggings. Classy and comfortable. I'm going to buy in more colors!
Cute and comfy sneaker that goes with everything. I have them in 4 colors!!
Love these shoes! Not only comfortable but looks great with jeans. Shorts, dress!!
I think I trust the Duchess of Cambridge's taste in sneakers. Not just because she strikes me as a pretty classy lady, but also because that girl is always on the go. Beyond being a mom to three kids under the age of five, she also has loads of public engagements as a working member of the royal family. And let's not forget Middleton's always been a sporty girl to boot, according to PopSugar. She's not above trying her hand at running track, playing tennis, soccer, volleyball, going for a sail.... the list goes on. So if I'm looking for an sneaker that's going to hold up for the duration, I'm going to trust Middleton.
Now if only she would share her shampoo and conditioning secrets.
This first-time mom wants to have a home birth, but is she ready? Watch how a doula supports a military mom who's determined to have a home birth in Episode One of Romper's Doula Diaries, Season Two, below. Visit Bustle Digital Group's YouTube page for the next three episodes, launching every Monday starting November 26.