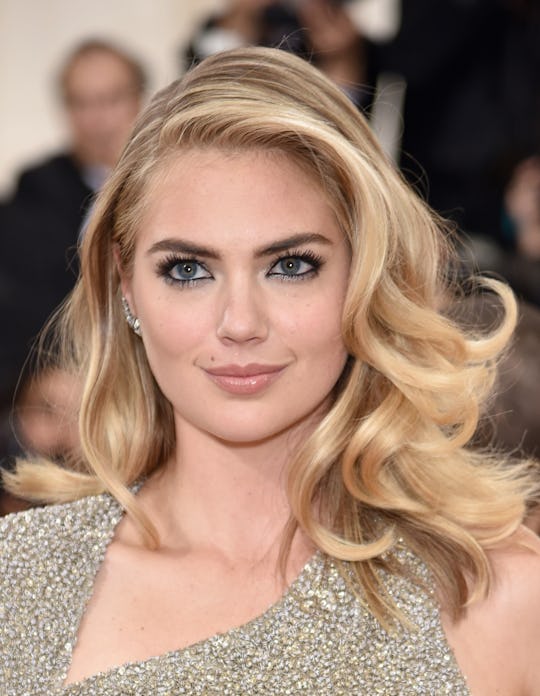 Dimitrios Kambouris/Getty Images Entertainment/Getty Images
Kate Upton Says Kneeling During The National Anthem Is "Unacceptable" & Misses The Point
On Sunday, many Americans participated in memorial services to honor the victims and heroes of the Sept. 11, 2001 terrorist attacks on the 15th anniversary. The same day, some professional football players opted not to stand during the playing of the Star-Spangled Banner. The athletes did this as a silent, unobtrusive protest of racial inequities that exist in the United States — certainly not to disrespect the country — although some nonetheless viewed the act as at diametric odds with commemorating the somber, patriotic solidarity we invoke when remembering 9/11. Bringing a famous face to that opinion was supermodel Kate Upton, who said kneeling during the national anthem was "unacceptable" — and totally missed the point.
That a smattering of football players chose to kneel during the national anthem on the NFL's opening day was no shock to fans, social justice advocates, or those who wish they'd just do as they're told: Some players from teams like the Kansas City Chiefs, the San Diego Chargers, and the Miami Dolphins demonstrated in support of San Francisco 49ers quarterback Colin Kaepernick, who's been at the center of a major controversy after he decided not to stand for the national anthem during pre-season, ESPN reported. "I am not going to stand up to show pride in a flag for a country that oppresses black people and people of color," Kaepernick told NFL Media in August.
Upton, a white woman, was seemingly uninterested in having the conversation about race relations and the systemic oppression people of color often face in the criminal justice system and elsewhere that this simple protest could inspire. In response to an article about Dolphins players taking a knee during the anthem, she promptly tweeted, "This is unacceptable. You should be proud to be an American. Especially on 9/11 when we should support each other." And in a lengthier Instagram post that accompanied a photo of the players kneeling, the 24-year-old actress expanded on her opinion, writing that "in [her] opinion" the national anthem represents the country's military veterans, and calling the players' kneeling protest a "disgrace," on any day of the year, but particularly on the anniversary of 9/11:
... Protest all you want and use social media all you want. However, during the nearly two minutes when that song is playing, I believe everyone should put their hands on their heart and be proud of our country for we are all truly blessed. Recent history has shown that it is a place where anyone no matter what race or gender has the potential to become President of the United States. We live in the most special place in the world and should be thankful. After the song is over, I would encourage everyone to please use the podium they have, stand up for their beliefs, and make America a better place...
Upton's argument is problematic and fundamentally flawed to say the least. She writes that people certainly have the right to protest, and indeed they should, except when she deems it unacceptable. She insinuates that because all Americans should feel "truly blessed" to live in this country, no qualm could be worthy of challenging its symbols (not even the police shooting deaths of black men such as Alton Sterling in Baton Rouge and Philando Castile in Falcon Heights, Minnesota, on two consecutive days in July). Finally, she presents an egregious case of moral licensing when she invokes the election of a black man, President Barack Obama, to the government's highest office as proof that racism can't really be that bad. She suggests that many white people, the primary oppressors of people of color, also should be excused from examining their privilege because they may have voted for Obama.
After the game against the Seattle Seahawks Sunday, Dolphins running back Arian Foster, who knelt during The Star-Spangled Banner along with a few teammates, explained why he believes that was exactly the right time to do what he did. "They say it's not the right time to do this," he told reporters in the locker room. "It's never the time in somebody else's eye, because they'll always feel like it's good enough. And some people don't."
In his comments, Foster reveals an essential truth about activism and striving for social justice. Kneeling during the national anthem is not at all a disruptive protest, but when high-profile athletes do it, it's visible and it's visceral. The fact that it offends people should force them to consider the reason why these players feel it's a necessary step. It's true that if these players were vocal about the oppression they and many people of color endure on social media alone — as Upton suggests they do — it would likely garner some attention. People who already shared their beliefs or their hardships with them would rally around them. Those who didn't agree or didn't care would simply ignore them.
But the act of kneeling in a packed football stadium before a big game in the face of a flag and an anthem that many Americans hold dear is impossible to ignore. So, when Kaepernick and Foster and even white National Women's Soccer League player Megan Rapinoe reject not the flag, but the social ills in this country it exemplifies for them, they're refusing to let these issues fade from the national consciousness. This is how to jumpstart a conversation many would prefer to pretend we don't need to have. This is how to enact necessary change.
No one is disrespecting the United States of America. They're laboring, despite criticism, damaged reputations and potentially damaged careers, to make it greater, and greater, and greater — for all Americans.