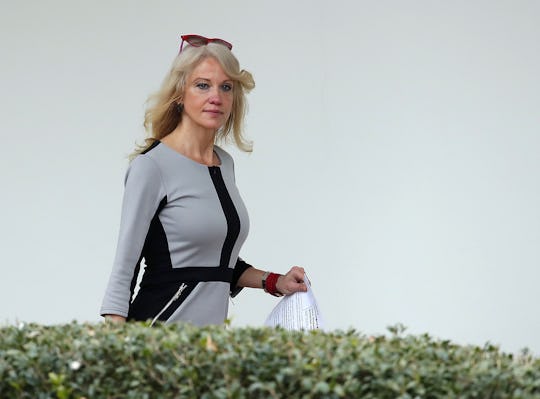 Mark Wilson/Getty Images News/Getty Images
Kellyanne Conway Says Her Kids Are "Struggling"
After serving as President Donald Trump's campaign manager — the first woman to ever run a winning presidential campaign — Kellyanne Conway took up her new post as a counselor to the president, becoming the highest-ranking female in Trump's otherwise predominantly male administration. These days, she puts in long hours in the White House, but in a recent interview with CBS Sunday Morning, Kellyanne Conway said her kids are "struggling" with her job. Conway's comments about her kids suggest that she is probably the member of Trump's team who comes closest to actually understanding the challenges that millions of women face in their own attempts to balance motherhood and their careers. But she has also said that she doesn't consider herself a feminist, and while she could use her unique position to push for change on behalf of America's women and mothers, she doesn't particularly seem to be interested in doing that.
In the interview, Conway spoke about being one of the rare White House staffers to have round-the-clock protection from the Secret Service — in response, she said, to "threats" against her, according to CBS Sunday Morning. She discussed putting her lucrative career as a businesswoman on hold and taking a major pay cut to support Trump's presidency, and hit back against what she considers to be the "triple-standard" against conservative women, or what she explained as the apparent added unfairness they deal with in addition to the usual double-standard all women face. But when it came to discussions of her family, Conway suggested that, more than anything, they were the ones who were truly bearing the weight of her role in the White House.
For one, Conway said her kids are "all online reading" what's being said about her, and that they don't understand why so many people dislike her. She also spoke about the difficulty they were having with the consequences of her new job, like the fact that they will soon be moving from their family home in New Jersey to Washington D.C., even joking that her children had created a petition to keep it from actually happening. But whether you like Conway or loathe her, her response when asked if there was anything that would make her want to leave her job at the White House was likely one that a lot of moms across the country could relate to: the wellbeing of her four children. She went on to explain, according to CBS Sunday Morning:
They're having the hardest time with this. This is all new for us. This is not something I've sought. I'm not a famous person on TV. It's just different to not have mom there, but it was a decision we made as a family, and we're going to move them here either way, because I'm here to support the president.
In Trump's first few months in office, Conway has taken a lot of heat — and not without reason. Not long after the inauguration, Conway faced backlash for defending White House Press Secretary Sean Spicer's inaccurate claims about public turnout at the event by calling Spicer's comments "alternative facts," according to The Guardian. Then there were her references to the Bowling Green Massacre, something she described as a little-known terror plot masterminded by two radicalized Iraqis that never actually happened. She also gave an on-camera plug of Ivanka Trump's product line during a Fox News interview, something that the Office of Government Ethics determined was a violation of federal standards of conduct. In other words, Conway has given the public a variety of reasons to criticize her — and they have — but in her position as a women in a male-dominated field (particularly in Trump's Cabinet), her comments about motherhood put her in the unique position to discuss something that is often overlooked, but that is an incredibly important issue to many Americans.
In a way, Conway could be a big ally to Americans under a Trump presidency. In an interview with The Washington Post, she spoke about being a successful woman, but aptly noted that while she definitely worked for her success, "so many people, so many women in this country work hard." She went on to note that she was privileged to get the opportunities she was afforded — something she described as "my shot and my time to help manage and execute on a plan and a vision at the highest levels of politics and government." She even spoke about being a product of a single mom and the granddaughter of immigrants, and how it contributed to the life she leads now.
That seems to fly in the face of a lot of the ideas advanced by the Trump Administration though, which is continuing to work to restrict immigration, massively increase deportation, and advance a tax plan that would actually have an incredibly detrimental effect on single mothers and hardworking low-income parents. Furthermore, despite being in a position to encourage female empowerment and advancement, Conway has also been outspoken against feminism, calling the movement "anti-men" and "pro-abortion." According to Business Insider, Conway spoke about her position in a speech as the Conservative Political Action Conference (CPAC), and said:
... I don't know about calling yourself a feminist. I also, for me, its difficult for me to call myself a feminist in the classic sense because it seems to be very anti-male and it certainly is very pro-abortion in this context. And I'm neither anti-male or pro-abortion, so. There's an individual feminism, if you will, that you make your own choices. ... I look at myself as a product of my choices, not a victim of my circumstances.
Beliefs about men and abortions aside, Conway's preference of "individual feminism" is problematic, because it ignores the reality and struggle faced by women who, well, aren't Kellyanne Conway. And while there's no question that it really must be hard for her to prioritize the needs of her children while also taking on such a demanding job, she is in the distinctly privileged position of also being financially secure, of having a partner who is able to fill in the gaps when she's away, and of having started out ahead of many, many women just by virtue of happening to be a cis-gendered, straight, white woman in America. That doesn't mean she hasn't worked hard, or that she doesn't deserve her success. But given her unique platform, she could do so much good by looking beyond her incredibly misunderstood view of feminism and her own needs and struggle to actually help other women who haven't been afforded the same opportunities as she has.
It's pretty easy to grill Conway for her comments and opinions, especially when a lot of what she says just seems like a whole lot of spin and pro-Trump rhetoric. But as far as women in the White House go, Conway is one of the very people who even have the opportunity to advocate on behalf of women's issues (the other, perhaps, being Ivanka Trump, though she also doesn't particularly seem to be able to look past her own privileged "individual feminism"). Unfortunately, Conway seems much more interested in continuing to support Trump in his divisive policies, and to massage the truth and smooth over any criticisms that come his way. So while Conway's motherhood dilemma might be one that's relatable, it's likely not going to be one that earns her a whole lot of sympathy.