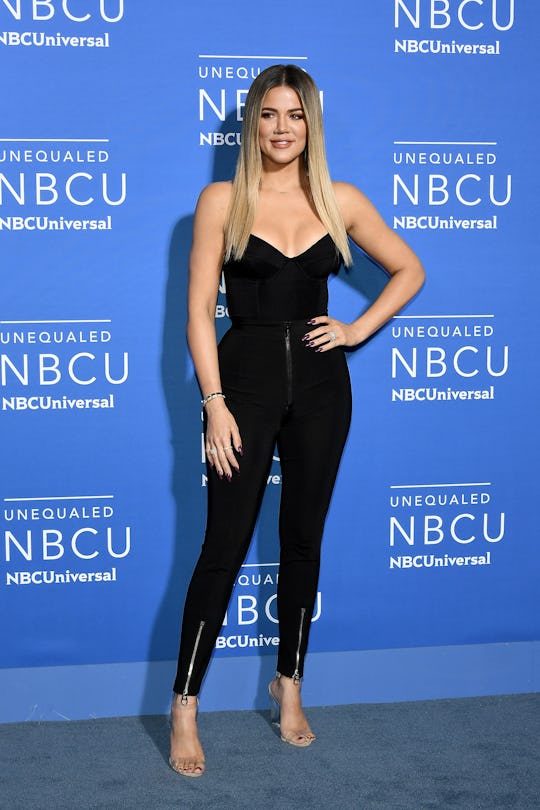 Dia Dipasupil/Getty Images Entertainment/Getty Images
Khloé Says She Might Not Give Her Baby A "K" Name, & Twitter Has Some Brilliant Ideas
It won't be too long now until the arrival of the newest Kardashian baby: Khloé Kardashian's due date is now less than two months away. On Sunday's episode of Keeping Up With The Kardashians, the soon-to-be first-time mom learned that — much to her own surprise — she and partner Tristan Thompson are actually expecting a baby girl together, according to E! News, and while the episode aired, Kardashian took to Twitter to answer fan questions about her pregnancy. In one tweet, Khloé Kardashian responded to rumors her baby could have a "K" name, because, honestly, it's a totally fair question (Khloé herself is one of of six siblings, all of whom have names that start with "K"). Her answer? It's totally possible, but it sounds like she might actually be leaning toward a name that begins with the letter "T."
During Sunday night's episode, Khloé and her sisters, Kim and Kourtney, took a trip to San Francisco together, and while they were there, Khloé got a call from younger sis Kylie Jenner, who was actually the one who found out the sex of Khloé and Tristan's baby from their doctor. Kylie then told Khloé that, actually, they were expecting a baby girl, and Khloé — who'd previously said she felt pretty confident the baby was going to be a boy — looked visibly shocked. But judging by her tweet Sunday, she's definitely gotten over her surprise, because she already appears to have a tentative name in mind for her baby girl.
As exciting an update as that is though, the best part actually seemed to be the reaction of Khloé's Twitter followers. To be fair, Kardashian fans on Twitter already have long proven themselves to have the most amazing baby name suggestions (lest we forget all the incredible Kylie Jenner lip kit-inspired baby names that popped up ahead of baby Stormi's name reveal?), and after Khloé shared that she was considering "T" and "K" names for her baby girl, well, they definitely didn't disappoint.
First, there was the most obvious guess: that Khloé was intending on naming her baby girl Tristan (an idea that tennis champ Serena Williams and husband Alexis Ohanian would definitely support — when their baby girl was born in September, they named her Alexis Olympia Ohanian Jr.). But unsurprisingly, it didn't take long before plenty of other guesses came pouring in. And in true Twitter fashion, some of them were completely hilarious.
First, there came the weather-inspired baby name suggestions, a nod to the social media eruption that occurred after Kylie told the world she'd named her daughter Stormi Webster:
Others felt it had to be something that worked well with her newborn cousins' names:
And some wondered if she might even be leaning towards a name inspired by her recent trip to Japan:
Then there were those who felt the perfect name was obviously staring the couple right in the face:
Given the KarJenners' clear preference for unusual names though, some thought the most unexpected thing Khloé could actually do would be to give her daughter a name straight out of a "most popular baby names" list:
In all fairness though, it sounds like Khloé still may not be any further ahead in her baby-naming decision than she was a few months back. In January, for example, Khloé told Ellen DeGeneres that she didn't really know what she'd name her baby if it was a girl, according to People, and explained, "I think if it's a boy I'll go with Junior — Tristan Jr. Then for a girl, I don't know where to begin."
Of course, naming a baby is definitely not an easy thing to do, and when you're in the public eye, it's probably even harder. Not only do you want to pick the right name, but you know you'll have to make sure you'll still love it after the inevitable onslaught of public judgment and opinion. The good news, at least, is that Khloé and Tristan still have some time before they have to decide for sure. And whatever they choose, it seems pretty safe to say it'll be instantly iconic.
Check out Romper's new video series, Bearing The Motherload, where disagreeing parents from different sides of an issue sit down with a mediator and talk about how to support (and not judge) each other's parenting perspectives. New episodes air Mondays on Facebook.