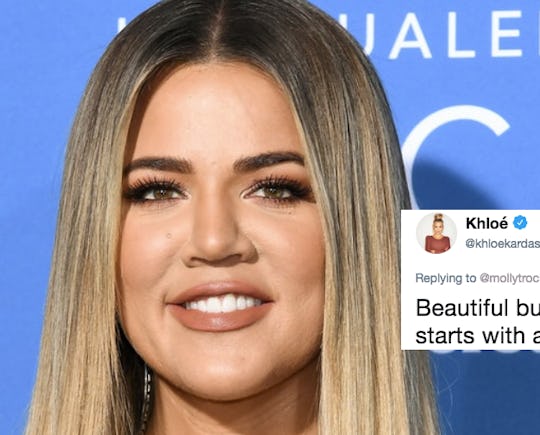 Dia Dipasupil/Getty Images Entertainment/Getty Images
Khloé Kardashian Revealed What Letter Her Baby's Name Will Start With & Fans Have *Ideas*
Although she has revealed her baby's sex (a girl) and an anticipated due date (next month), Khloé Kardashian has remained pretty tight-lipped about what exactly she plans to name her first child. But, lately, she's been dropping hints here and there about her baby-to-be's moniker and on Monday, Khloe Kardashian dropped another baby name hint and, as you can imagine, Twitter already has so many predictions about what it could be.
As her due date draws near, Kardashian has been opening up quite a bit about how she's preparing to welcome her baby girl into the world. Between lavish baby showers, trips to Japan, and preparing her little one's nursery, Kardashian has been busy. But she's also been sharing with her fans just how much she's been thinking about making sure her future daughter has the perfect name.
On Monday night, Kardashian took to Twitter to answer some fan questions about her pregnancy, and while she talked about plenty of topics, one of the biggest hints she dropped was that of her baby's name. As it turns out, she doesn't quite have an exact name chosen just yet, as far as she's shared with fans, but she does know what she wants it to start with. And no, it isn't a K.
After one fan commented that elephants were a pretty big theme at Kardashian's baby shower and suspected that they were a nod to the baby name — "Elle" and "Ella" were the names the fan suggested — Kardashian quickly shot that down with a straightforward tweet. "It's just an elephant," she wrote.
But, after another fan stated that "Ella Thompson sounds lovely," Kardashian once again set the record straight. "Beautiful but I'm going with a babe that starts with a T," she wrote on Twitter.
So there you have it; Kardashian is definitely planning on naming her daughter something that starts with a T. Which is honestly pretty cute. After all, Kim, Kourtney, and Khloe all have a first name that starts with the first letter of their last name, Kardashian. And considering the fact that Kardashian's baby will very likely carry her boyfriend, Tristan Thompson's, last name, choosing a T baby name is seriously perfect.
And now that fans have a for-sure initial to work with, the theories about Kardashian's actual baby name are in full swing.
While many of the suggestions were valid, cute, and sweet, some people just couldn't resist the opportunity to poke some fun at all the infamous names Kardashians have chosen for their children and offered up some pretty outrageous suggestions of their own.
Previously, plenty of rumors about Kardashian's baby's name had been floating around. Based on Kardashian's very pink and flowery Instagram feed as of late, fans have pushed a theory that Kardashian would be naming her daughter Rose or Rosie. But again, the 33-year-old took to Twitter to dispel those rumors. "Rose is so cute but no that's not on my list," she wrote. And with those 11 small words, Kardashian sent the internet into a frenzy.
Considering that she refuted the Rose theory, it makes sense that the elephant theory would take its place. But again, Kardashian shut it down, and even gave fans some insight into what she was actually thinking.
So, now that Kardashian has set the record straight that her baby girl's name will indeed start with a T, and there are only a couple of weeks left until her due date, fans should start placing their bets now. After all, Kardashian baby names have a tendency to make a splash, so no guess is too off limits. Between North, Stormi, Saint, and Chicago, there's plenty of room for some creative guesses — as long as they start with a T, that is.
Check out Romper's new video series, Bearing The Motherload, where disagreeing parents from different sides of an issue sit down with a mediator and talk about how to support (and not judge) each other's parenting perspectives. New episodes air Mondays on Facebook.