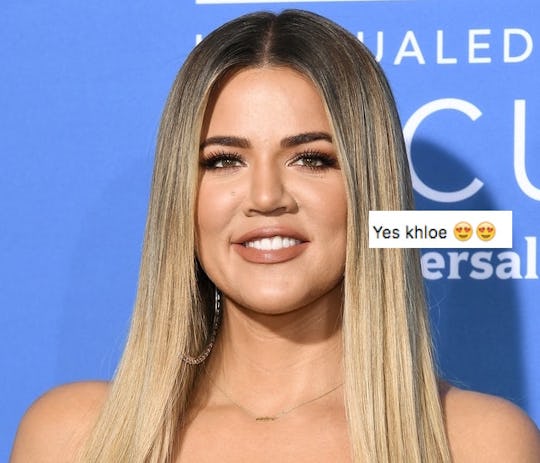 Dia Dipasupil/Getty Images Entertainment/Getty Images
Khloé Kardashian Shared Another Photo From Her Maternity Shoot & People Are LOVING It
Khloé Kardashian may have kept her pregnancy under wraps for the first few months, but she has definitely made up for lost time since the big reveal. Because since that fateful day in December, Koko's Instagram has provided a fairly steady flow of photos showcasing her growing bump. Judging by her fierce maternity wardrobe and as-always flawless posing, (often with a hand on her bump,) the gorgeous mom-to-be isn't afraid to put her pregnant body on display. And guys, Khloé Kardashian's latest maternity photo, featuring Tristan Thompson, is getting so much love.
If you remember, pregnancy rumors about Kardashian started swirling back in September — just days after her sister, Kylie Jenner, was reported to be expecting her first child. And yet, the Keeping Up with the Kardashians sisters neither confirmed nor denied these rumors for months. (Which nearly drove fans mad, as evidenced by the rampant conspiracy theories.) However, Kardashian surprised fans with an early Christmas present on Dec. 20 by finally announcing that she was, in fact, expecting her first child with Thompson, who plays for the Cleveland Cavaliers.
The Good American designer spilled the beans on social media with a pregnancy reveal that was seen around the world. "My greatest dream realized! We are having a baby!" Kardashian wrote on Instagram, alongside a photo of herself and Thompson cradling her bump. "I had been waiting and wondering but God had a plan all along. He knew what He was doing. I simply had to trust in Him and be patient."
Since then, Koko has offered up at least 27 Instagram posts that feature her bump in some way. But the latest shot has attracted a huge wave of positivity. In just eight hours, Kardashian's newest bump photo had been liked over 3.5 million times on Instagram. (Which doesn't compare to the nearly 9 million likes her pregnancy announcement photo received. But still!)
"Mommy and Daddy," she captioned the powerful shot of herself and Thompson cradling the bump while looking intensely at something off-screen.
Cue: Plethora of Instagram users bombard the expectant mama with well-wishes and compliments. One commenter in particular summed up the gorgeous shot perfectly, writing, "This picture radiates love and anticipation. It's photography at its finest." (Amen!)
"This is a beautiful family photo! You're gonna be an amazing mom! And your little one is gonna have an amazing life!!" another person commented.
"Your new name should be 'glowy kardashian'..so pretty momma!" another Instagram user wrote.
Yet another person chimed in with: "What a gorgeous photo!! You are stunning pregnant and I hope you frame this and put it in your daughters room. Shows all the beauty in you twos love for one another and your daughter!!"
Another Instagram user wrote simply, "Pregnancy suits you. You are stunning!"
Other fans took this photo as an opportunity to reflect on Kardashian's journey to this exciting point in her life. One person wrote, "You Khloe will be the best mother! Your compassion and empathy for others may have once been a crutch for you and such a heavy burden to bear...but I truly believe it has prepared you for this very moment!"
Another Instagram user declared, "THIS IS REAL BEAUTY. Happy you found your happily ever after. You and Tristan will be amazing parents. Many more blessings in your life journey."
Others used this as a final opportunity to give her a pep talk about labor and delivery: "What a beautiful picture! You're getting so close to delivery day. I hope it goes beautifully for you!" one follower wrote.
Another person commented, "Once your eyes meet hers, it will be as if there are just the two of you in the room. Best feelings that I have felt by far. You'll be a great mom Khloe."
And then there's always that one person who ruins a perfectly innocent photo/social media post, isn't there? "How is this goals!" the negative Nancy commented. "Getting knocked and not even trying to get married? That's why we have so many messed up kids because we have baby mamas and baby daddies but we don't have real families." (Um, newsflash: This is 2018. Fewer couples are getting married overall, and a fair amount of them have babies before tying the knot.)
D-day (delivery day) is sooo close, folks. In fact, there are only a few more weeks left for Kardashian to bask in her pregnancy glow, as Cosmopolitan reported.
Honestly, I can't wait to see what Khloé Kardashian and Tristan Thompson's baby girl looks like. And what they decide to name her. And for that first photo of all of the 2018 Kardashian-Jenner babies — Chicago, Stormi, and baby Thompson — together. April is going to be an epic month for Khloé Kardashian fans, that's for sure. The countdown is on!
Check out Romper's new video series, Bearing The Motherload, where disagreeing parents from different sides of an issue sit down with a mediator and talk about how to support (and not judge) each other's parenting perspectives. New episodes air Mondays on Facebook.