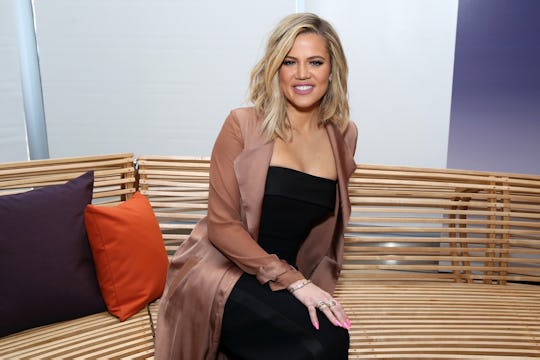 Cindy Ord/Getty Images Entertainment/Getty Images
Khloe Kardashian Threw A Kardashian Baby Cupcake Party & It's Adorable
Do you know what's cuter than a baby eating a cupcake? A bunch of babies eating cupcakes. Who doesn't love to see a whole pile of babies with a whole pile of cupcakes? It's pretty much the best thing ever. Perhaps especially when it's a picture of all of those edible little Kardashian babies crowded around together. Khloé Kardashian's new photo of True's cupcake party features all those babies, and it's going to make your morning at least 35 percent better.
It seems that the Good American designer was looking to do something sort of special to celebrate her daughter's turning six months old on Friday. True Thompson, whom Khloé shares with NBA player boyfriend Tristan Thompson, looked like she was having a grand time with a bunch of her cousins plus trays of sprinkly cupcakes. Pictured are Kim Kardashian-West's youngest two kids, 2-year-old son Saint and 8-month-old daughter Chicago, Rob Kardashian's 1-year-old daughter Dream, and Kyle Jenner's 8-month-old daughter Stormi. Of course, some of the older cousins were missing from the picture, namely, Kim's 5-year-old daughter North and all of Kourtney Kardashian's kids (8-year-old Mason, 6-year-old Penelope, and 3-year-old son Reign). But still, this was the first time all of the younger cousins were pictured together. And honestly, it does not disappoint. Khloé captioned the picture:
💕 Cousin Cupcake Party!!! 💕 Keeping Up With The Kousins 💕
So now let's discuss everything that is amazing about this shot. First of all, the only baby looking up is True, which is sort of hilarious. Three of the babies can't keep their eyes off those delicious cupcakes; Dream, Saint, and Chi are all pretty focused on their treats, and Chi in particular is just going to go ahead and dive right in. Stormi is playing with a card and not paying attention at all. In other words, this picture is every parent trying to corral multiple kids for a cute photo shoot.
Kim Kardashian-West had a more manageable idea to commemorate True's half-birthday. She shared a photo of her daughter North playing with True on the floor. That's only two kids, plus she went candid which is easier.
Khloé seems to be feeling a bit introspective lately, if her social media feed is anything to go by. Perhaps it's this six month milestone that has her looking at her inner life. Us Weekly reports the Revenge Body host shared a post on her Instagram Stories on Friday that read:
In 6 months time you can either be in the same place or a better place. Focus everyday on improving your Health, Wealth, and Happiness. It will take time but you can make it happen.
This is what parenthood does to some of us, makes us shift the way we think about our lives. And of course, Khloé has struggled with some relationship turmoil in the past six months as well, as Cosmopolitan reported. But there's one thing she makes patently clear these days... she's all about her baby. And all about making sure her baby grows up with a close connection to family. Also she's a cupcake mom, which is a total bonus.
True is a pretty lucky baby.