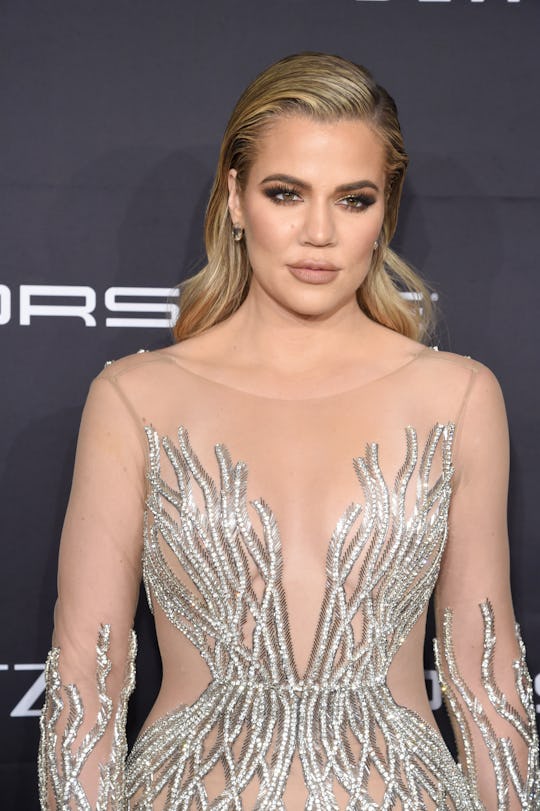 Jamie McCarthy/Getty Images Entertainment/Getty Images
Khloé Kardashian's Tweet About Being Tired Is So True, It Hurts
I remember when I was pregnant, there was one warning that everyone, even childless people, gave me: Expect to never sleep again. It's an exaggeration, sure, but it does well to encompass the reality of parenthood. Being a mom means expending all of your energy, all of the time, while also losing those precious moments of shut-eye you need in order to recoup. That's why new mom Khloé Kardashian's tweet about being tired "for the rest of my life" is so true, it hurts. (No pun intended.)
Kardashian has taken to social media quite frequently to gush over her baby girl, True, who she welcomed in April with her boyfriend, NBA player Tristan Thompson. And how could she not? True Thompson is absolutely precious!
Still — and this is something I can confirm — no matter how adorable you find your newborn to be, they will suck the life out of you. Of course, you wouldn't trade your baby in for the world. But they leave you feeling like you're a walking zombie every second of the day.
Which can explain why Kardashian tweeted Friday night, "Wait, real question, am I going to be tired for the rest of my life now? Lol."
Yes, Khloé. Yes.
A few weeks ago, Kardashian hit back at reports that claimed she looked bored on a dinner date with Thompson, according to The Mirror. One of the paparazzi photos in question showed the 33-year-old bestselling author yawning, The Mirror reported.
Yawning! How dare she?!
The Keeping Up With The Kardashians star took to Twitter at the time to defend herself, writing that she "actually had a great night," but "as a new mom IM TIRED AF!!," according to The Mirror.
And it's not just when you're a new mom. Some of Kardashian's followers replied to her Friday night to let her know that the exhaustion lasts well into adolescence, the teen years, and even adulthood. One Twitter user, @butyinblu1, told the reality TV personality:
I have a 25 year old a 12 year old and a 2 year old. I don't even know what it's like to be not tired. Lol. Well worth it though.
Another user, @MrsTobias3, said:
My children are 18 and 14... still tired! Not the "newborn" tired, but the " teenage" tired. Not sure what's worse!
Kardashian, for her part, responded to most of the replies, showing love for her fellow moms and empathizing with their experiences. The Strong Looks Better Naked author responded to one mom on Twitter:
Oh man! I can't even imagine!!! You're a great mommy
This isn't the first time Kardashian has lamented about being a tired. Early last month, the Good American co-founder posted a video clip to Snapchat letting her fans in a video clip know that baby girl True had slept for eight hours straight, according to People. She called the marathon sleep session (and trust me, for an infant, being conked out for eight hours straight is a marathon) "a huge blessing," People reported. Kardashian then added, "And I'm just so proud of her!"
But while the long sleep session may have been a proud moment, it still wasn't a walk in the park for Kardashian. The KUWTK star said in the Snapchat clip, according to People:
Even though I thought I would be super rested. I am just so exhausted. But I've come to the realization that I'm gonna be pretty tired for a long-ass time. But it's all good. I'm kind of excited.
Kardashian isn't wrong: She is going to be tired "for a long-ass time." I'm only three years into this parenthood thing, and I see no end to exhaustion in sight. Nor do I think I ever will. As some parents who replied to her tweet said, although why you feel tired may change, you'll still feel tired because, really, kids are a lot of work — even at 15 years old.