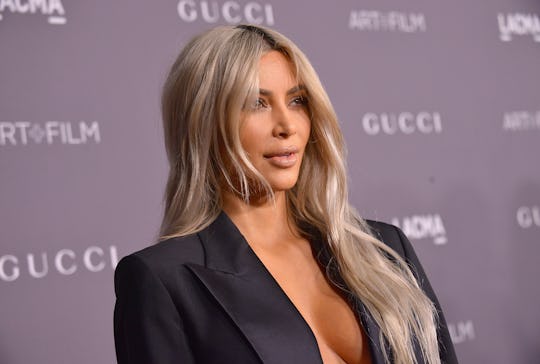 Charley Gallay/Getty Images Entertainment/Getty Images
Kim Kardashian Gets Honest About How She Decided Her Third Child Would Be A Baby Girl
It's been almost two whole months since Kim Kardashian and Kanye West welcomed their third child into the world via surrogate. Chicago West was born on Jan. 15, 2018, and even before then, Kardashian has been open with fans and the media about her fertility journey. Most recently, Kim Kardashian revealed why she chose a female embryo when she and her husband decided to go the surrogacy route for their third child. But as she explained, according to People, it wasn't as difficult of a decision as you might imagine.
The famous family has been keeping everyone on their toes these days. At one point in time, not one, not two, but three sisters were all expecting a baby at the very same moment. Kardashian and husband Kanye West welcomed their daughter, Chicago in January and Kylie Jenner welcomed her baby girl, Stormi, on Feb. 1, and fans are now just waiting on Khloe Kardashian to give birth, which is expected to happen next month.
Now that Chicago is just about 2 months old, Kardashian is opening up about the more intimate details about her decision to use surrogate and, more specifically, how she decided to use a female embryo instead of a male. When it all came down to it, it was based on one factor: health.
Speaking to ELLE, she said that when it came time to decide, she only thought about the health of her unborn child. "Which one is the healthiest? Pick the healthiest one," she told the magazine.
Kardashian was interviewed by ELLE for its April cover story and spoke at length about her surrogacy experience. Although, as she clarified in her interview:
I refer to her as a surrogate, but it's completely my and Kanye's DNA, so technically that's called a gestational carrier. A surrogate is when they use the husband's sperm and the surrogate's egg.
So, in her gestational carrier journey, Kardashian told the publication that it actually wasn't that hard to decide whether to implant the male or female embryo. "It's a really tricky thing. What sex do you put in? I just said, 'Which one is the healthiest? Pick the healthiest one,' and that was a girl."
Being able to choose a healthier embryo is a relatively new phenomenon, but one that has many advantages. Since women can see which embryo has the greater chance of surviving once it's implanted, there is less of a chance that the woman will have multiples, or that something will go wrong.
And for Kardashian, knowing that there wouldn't be any complications was definitely worth it. After her first pregnancy, Kardashian explained on her blog that she suffered from a dangerous condition. "I had a condition called preeclampsia, which is a serious condition you can get during pregnancy; often, the only way to get rid of it is to deliver early to protect yourself and the baby," she explained.
But once she decided on having a girl, the decision-making process wasn't over for Kardashian. According to ELLE, she also had to determine where her baby would be born, as well as put forward a few stipulations for her gestational carrier's diet. But Kardashian also understood that being pregnant means having specific cravings, as she told ELLE:
I straight-up told her, "Look, I ate doughnuts every single day. If you want doughnuts and ice cream, go for it. Do whatever you feel. I'm not going to be picky like that. That's just ridiculous."
Honestly, totally fair.
While Kardashian may not have loved being pregnant, she still struggled a bit with not being able to carry her child. "I hated being pregnant," she told ELLE. "But as much as I hated it, I still wished I could have done it on my own. The control is hard at the beginning. Once you let that go, it's the best experience. I would recommend surrogacy for anybody."
From choosing the sex of her baby, to deciding where her baby would be born, those are a lot of heavy decisions to make before her little one was actually conceived. Fortunately, Kardashian continues share with others about her fertility journey and, in doing so, is helping others going through the same things with her openness.
Check out Romper's new video series, Bearing The Motherload, where disagreeing parents from different sides of an issue sit down with a mediator and talk about how to support (and not judge) each other's parenting perspectives. New episodes air Mondays on Facebook.