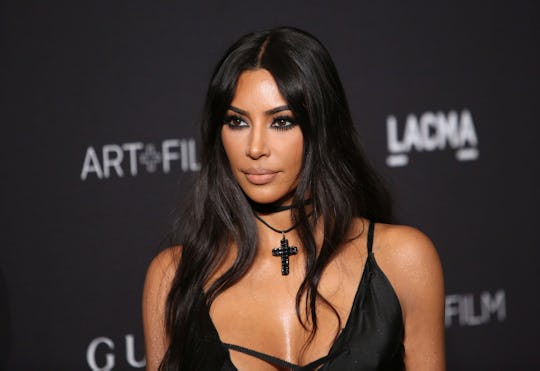 Jesse Grant/Getty Images Entertainment/Getty Images
This Video Of North West Having A Meltdown Will Resonate With Every Mom
If you are a working mom it can actually be really nice to include your kid in your work life. I think especially if you have a daughter: How wonderful is it to be able to lead by example and show your little girl what a rewarding career looks like? To show her she really can have it all? In an ideal world, that's what would happen when you took your daughter to work. In the real world, it looks more like this video Kim Kardashian posted of North having a meltdown over the most hilarious thing. Because in the real world, kids aren't thinking of life lessons, they're sort of just thinking about themselves.
On Friday the KKW mogul was looking to promote her Glam Bible makeup kit and she decided to enlist a little help from a different glam squad: her 5-year-old daughter North West and her 2-year-old niece Dream Kardashian, as The Daily Mail reported. It was a pretty adorable idea, and North was clearly having a grand time at the outset. But then her mother did something so unforgivable and heinous, North had no choice but to fling herself on the floor and scream her lungs out.
Kim moved her head slightly when North was drawing a "W" on her face. Can you even believe it?
Kim explains the story behind the child wailing on her closet floor:
I moved, I'm sorry, I didn't know it would cause this much of a big deal. My makeup artists usually don't act this way.
In the background North can be heard just losing her mind screaming, and Kim seems to be taking it in stride. She shows her cheek where the budding makeup artist was trying to brand her mother with "KKW" in black eyeliner, only the W smudged. And in what I consider to be a pretty perfect parenting move, Kim lets her daughter have a minute to yell and then shuts it down by saying calmly, "OK, let's focus."
Of course, the internet loved North in this video and her mother's amazingly calm response. You know this is going to be a GIF in a hot minute, by the way.
I'm please to report that North seemed to take her mom's advice and focus. She calmed down enough to finish her job, and isn't that a great life lesson? Because I know from experience that if you throw a tantrum at work they're probably still going to make you keep doing your job or fire you. With some very adorable help from Dream Kardashian, who held it together admirably throughout the tutorial, North finished her mom's makeup look. And it was... well, she's not going to look like anyone else, so that's a thing.
North clearly loves makeup, as she proved when she did her own contouring tutorial back in September, so it's pretty sweet that Kim includes her in these fun work adventures.
But as Kim obviously knows, working with a 5-year-old comes with certain challenges. Like if you do one thing to annoy them, they're going to lose their damn minds. Such is the life of a working parent.
Season 2 of Doula Diaries shares the stories of fearless doulas helping their clients take control of their births and make tough choices that feel right to them. Watch the first episode of the new season Monday, November 26th.