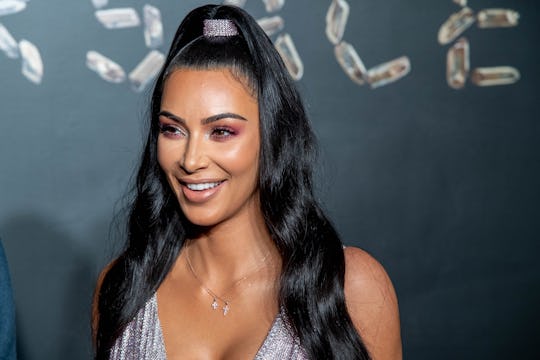 Roy Rochlin/Getty Images Entertainment/Getty Images
Kim Kardashian Sent Baby Chicago To Cleveland For This Relatable Reason
As a mom of four kids I can tell you there's no worse dilemma than all of them getting sick at the same time. I don't care how much money you have or who you are or what your situation in life might be, you are never more aware of having more children than arms than when all of your sick kids need you. Whether it's the stomach flu, a cold, a fever, whatever... avoid it at all costs. Which is exactly the motivation behind Kim Kardashian sending baby Chicago to Cleveland for a few days... she was trying to keep her from getting the flu. And this is seriously the very first time I've been jealous of her luxurious lifestyle.
The mom of three was at an event celebrating the launch of her new KKW Fragrance on Thursday when she opened up to Extra about her home life. It seems that her older two children, 5-year-old daughter North and 3-year-old son Saint, were both at home in Calabasas, California, but her 10-month-old daughter Chicago was in Cleveland, Ohio visiting her aunt Khloé Kardashian and baby cousin True Thompson. And no, this was not some sort of long-distance play date. It seems the flu hit the Kardashian-West household and she decided to fly her baby to an entirely different state to keep her well.
As Kardashian explained, the rest of the family was sick and she wasn't above going to drastic lengths to keep her baby from catching the flu, as per Extra:
Three is wild, having three kids is really insane. Yesterday was a hard day because we have the flu going around. So once the flu happens, and I felt it in the house and my baby didn't have it — Chicago — I sent her to Cleveland with Khloé. So I said... "Khloé, please take her for like four days, because she'll get sick [at home] with everyone."
Fortunately, Khloé didn't appear to be overly concerned with having an extra baby around for a few days. In fact, judging by her social media, she might have been loving it. Although she did caption this cute pic of the two babies sleeping in their car seats, "It's been a long day." So I suppose you can read what you will into that one.
The trio of 2018 Kardashian-Jenner baby girls (which also includes Kylie Jenner's baby Stormi Webster) are clearly being raised to be especially close to each other, and Kim Kardashian-West isn't going to let a little thing like living in different states stop her from reaching out. And sure, I guess I'm probably wildly envious of the idea of being able to ship my baby off to my sibling in a different state to avoid the flu. But I'm not so envious that I can't enjoy the sight of two little babies becoming best friends.
Look at them holding hands. I mean, seriously.
There will be plenty of people who will be horrified that Kim Kardashian sent her daughter to Cleveland, of course, and there will be plenty of reasons why. She went to a work function instead of being with her daughter, flying her little girl to a different state is too luxurious, blah, blah, blah.
But I'm telling you, if I had been able to avoid a baby getting the flu when dealing with two other sick kids in the same way? I would do it every day of the week.
This first-time mom wants to have a home birth, but is she ready? Watch how a doula supports a military mom who's determined to have a home birth in Episode One of Romper's Doula Diaries, Season Two, below. Visit Bustle Digital Group's YouTube page for the next three episodes, launching Mondays in December.