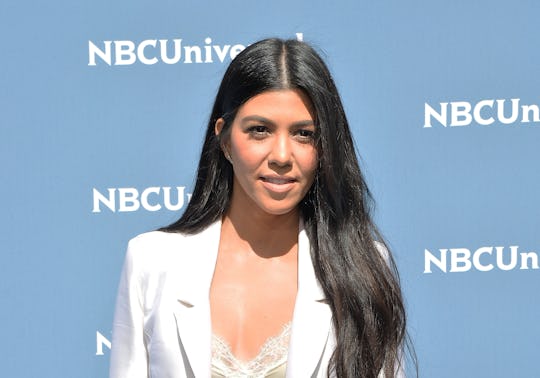 Slaven Vlasic/Getty Images Entertainment/Getty Images
The Lesson In Kourtney Kardashian's Instagram
Although the Kardashian fame machine undeniably thrives on drama, either real or publicist-generated, it's crystal clear that the family is close. So, they're twining ever closer as the siblings grow the brood by bringing another generation of mini celebrities into the world. And none is more enamored by the the newer additions to the family than oldest sister Kourtney Kardashian, who frequently posts Instagrams of her kids celebrating how much they've taught her and caused her to grow as a person — in addition to being absolutely adorable. The caption of the most recent shot of her younger son and daughter showcases how sincerely Kardashian hold all of these beliefs, and it's enough to make any parent stop and reflect on the huge influence they have on their kids' lives.
"Speak to your children as if they are the wisest, kindest, most beautiful and magical humans on earth, for what they believe is what they will become," Kardashian captioned the post, quoting writer and author Brooke Hampton, alongside a photo of Penelope, 4, and Reign, 2, out enjoying nature.
Judging by the loving way Kardashian often talks about her young trio — which also includes 7-year-old Mason – and her role as a mother, it's clear that she strives to let them know how special they are in every interaction, as well as to really listen to them.
Rumors that Kardashian may be pregnant with her fourth child with on-again-off-again partner Scott Disick have been swirling and intensifying, fueled most recently by a video on her website in which she tells a friend who asks whether she's having any more babies, "You never know!" It's no secret, of course, that the oldest Kardashian may want to have as many as six children, as she old Cosmopolitan in an August interview. "I just don't know what's in God's plan," she said at the time.
Still, whether or not she is expecting baby no. 4, and whether or not an even half dozen is on the horizon for her, Kardashian is not wasting one moment of her little ones' childhoods. From throwing a The Fast And The Furious-themed birthday for her sons (who share a birthday) to being a tourist in Ponza, Italy with Penelope, Kardashian appears to be an ever-present and very proud parent. And because she's constantly letting her kids know how great they are, it does stand to reason that they'll grow up to know they're "the wisest, kindest, most beautiful and magical humans on earth" — or at least have some high self-esteem.
Kardashian's comment about talking to her kids actually echoes one President Obama made at his final press conference in office Wednesday, when he described how he discussed Donald Trump's November election win with his teenage daughters, Sasha and Malia:
Man, my daughters are really something, and they just surprise and enchant and impress me more and more every single day as they grow up. And so these days when we talk, we talk as parent to child, but also we learn from them.
Similarly, in December 2014, Kardashian posted a photo of Mason to Instagram with a truly touching caption. "You teach me so much every single day and changed my universe the second I met you," she wrote. "You have taught me what life is all about and I am truly blessed and honored to be your mommy."
As parents in the celebrity realm as well as the federal government know, talking to kids and really listening to them is so, so important — and it's a lesson all parents everywhere can take to heart.