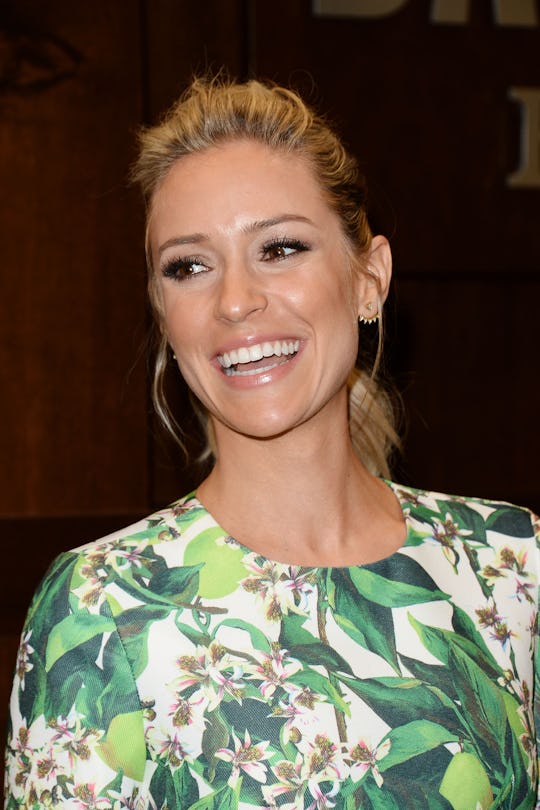 Matt Winkelmeyer/Getty Images Entertainment/Getty Images
Kristin Cavallari Breastfeeding Photos Have Helped To Normalize Breastfeeding
Former The Hills star Kristin Cavallari recently opened up about both the joys and hardships that comes with parenting in an interview with Modeliste magazine. The 29-year-old mom of three and wife to NFL player Jay Cutler shared how having children has given her strength and a new purpose in life. The former reality star and author of Balancing in Heels: My Journey to Health, Happiness, and Making It All Work, has always been one to open up about parenting, and, on a few occasions, Cavallari's breastfeeding photos have made their viral rounds on the internet – though her comments surrounding breastfeeding and formula have sometimes led to backlash.
Generally speaking, it's always a positive thing when public breastfeeding and pumping is celebrated, rather than scrutinized, because it helps normalize an idea that should seem normal to everyone – women breastfeed and pump milk in order to feed their children. And furthermore, women should not have to hide while breastfeeding or feel that people will sexualize it. There's too much information out there about the benefits of breastfeeding for it to still be such a contentious topic. But unfortunately it is, which is why breastfeeding and pumping photos posted to social media by celebrities with large platforms helps combat the pushback. Cavallari's breast pumping photos, particularly one in which she was pumping while on a book tour, was another champion example of why we shouldn't shame mamas who have to pump at work.
Cavallari, who recently celebrated the 10th anniversary of The Hills, told Modeliste what the hardest part of parenting has been for her.
"I think the hardest part of being a working mom is that I miss my kids a lot," she told Modeliste, according to E News. "I live in Chicago, but my work is always in New York or LA, so I always have to travel for my job. That usually means I'm gone for a couple of days at a time, but FaceTime helps a lot."
I'm sure many moms and dads would identify with her struggles of being a working parent – at least to some degree – since Cavallari's unique situation does afford her a multitude of resources and access that many other working parents don't have.
But Cavallari's comments on parenting and breastfeeding haven't always gone over well in the public. The reality star received a lot of criticism for her past controversial comments about not vaccinating her kids and her decision to use infant formula that contains goat milk powder.
As far as breastfeeding goes, Cavallari has been open about the struggles she faces while breastfeeding at times, and once shared how a car accident made it difficult for her to breastfeed her daughter, Saylor. Apparently her hubby stepped in to lend a hand.
"In January, I was in a car accident and I dislocated my elbow, which meant I couldn't hold Saylor," Cavallari said in an interview with NBC Chicago. "She's a newborn, so I couldn't just prop her on my hip. I needed to cradle her with two arms. Jay had to help me breastfeed."
Here's to the future, and to continuing the push for normalizing breastfeeding.