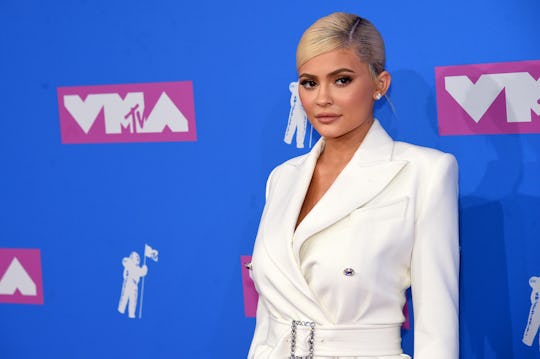 Jamie McCarthy/Getty Images Entertainment/Getty Images
OMG, Kylie Jenner & Stormi's Matching Halloween Costumes Look So Comfy
The best season of the year is upon us, everyone, and no one celebrates it better than Kylie Jenner. Well, that's probably an exaggeration. I'm sure there is probably someone out there doing a better job of celebrating Halloween than Kylie. But realistically speaking, Kylie's got Halloween on lock. She's been killing it with an annual Halloween dinner for the past few years, but she's really amping it up now that she's a mom. Need proof? Kylie and baby Stormi wore matching Halloween costumes to her spooky dinner this year, because she's totally embracing her role as a cool mom, I guess.
The 21-year-old Lip Kit mogul welcomed baby girl Stormi Webster with boyfriend Travis Scott on Feb. 1, and she has totally thrown herself into the role since then. In fact, one could argue that she started making changes even before she gave birth, since Kylie refused to acknowledge her pregnancy or be seen in public until after Stormi was born, according to Harper's Bazaar (a big switch for a girl who has spent most of her life in the spotlight). Kylie is all about that baby girl of hers, and totally enjoying each stage. Maybe especially her little girl's first Halloween, which would make total sense for someone who loves to change her look like a chameleon.
Her latest look? Think skeletons.
The Keeping Up With The Kardashians star hosted her annual Halloween dinner on Friday and really stuck to her spooky theme. She and Stormi dressed in matching skeleton onesies, which is sort of brilliant. Spooky and comfy at the same time! Looking back on Kylie's past Halloween dinners, there's definitely a trend towards sticking with the haunted theme, as Buzzfeed reported. But it looks like the addition of Stormi might have brought on the whole comfortable onesie thing. Here's Kylie at her 2016 Halloween dinner with ex-boyfriend Tyga.
So those skeletons were sexier than those at this year's shindig, I think. Which is not to say that a mom can't have dress as a sexy skeleton, obviously. But let's face it: Wearing a matching costume with your baby is the perfect excuse to be as chill as possible.
And Kylie does seem to be embracing a rather wholesome approach to Halloween with her little girl this year. She and boyfriend Travis Scott took Stormi to a pumpkin patch earlier this week and totally loved it.
In fact, they loved it so much that Kylie couldn't seem to stop documenting their special day.
Kylie captioned this picture of Travis and Stormi snuggling up at the pumpkin patch "blessings on blessings."
Motherhood has brought on some serious change for Kylie, as it does for all of us. She and Travis recently bought a new house together, as per People, and she told Forbes in a July interview that she wants to make sure she keeps her cosmetics empire going strong so she can leave it to Stormi someday. In other words, motherhood has matured her.
But not so much that she can't still have a great time celebrating Halloween, thank God. Because one of the best things she can do for Stormi is to have a little fun with her, right?