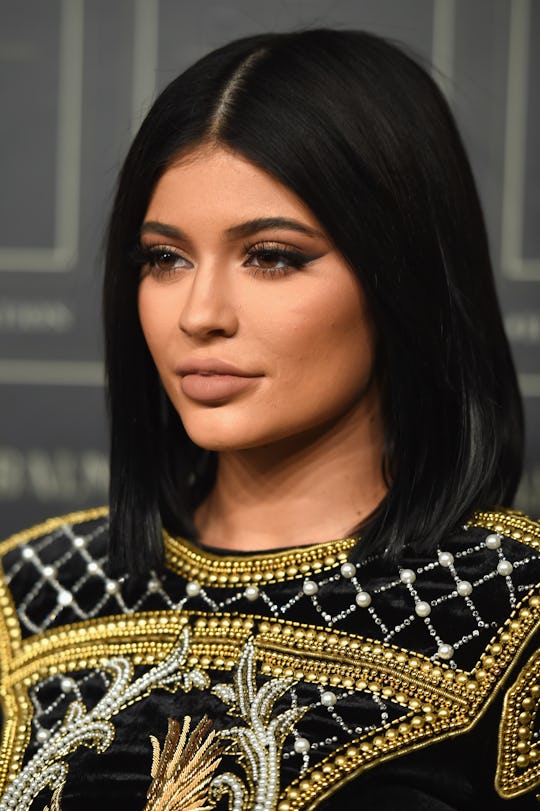 Dimitrios Kambouris/Getty Images Entertainment/Getty Images
Kylie Jenner Is Reportedly "Counting Down The Days" Until She Gives Birth
Although there still isn't any official word about her rumored pregnancy, anonymous sources close to the family reportedly say that Kylie Jenner is "counting down the days" until she gives birth, according to E! News, which means fans are assuming that her due date is really soon. Romper's request for comment from Jenner regarding the pregnancy rumors was not immediately returned. When rumors broke in September that she was reportedly pregnant, reports swirled that she was already four months along which would mean that her due date is as soon as this February or maybe early March.
Just so you don't get too excited, remember that the rumor mill said that big sister Khloé was equally far long, although she just announced her six month mark earlier this month, so blind items aren't to be taken as gospel. But since we're all on baby watch, we might as gather as much evidence as humanly possible, right?
According to this source, according to E! News, Kylie reportedly has "everything" in order, which does sort of make sense, since mom Kris Jenner was equally prepared for her first grandkids from Kim and Kourtney Kardashian. If the Kardashians are good at just one thing, it's decorating a nursery. The source told E! News that Kylie and Kris are "getting everything set up" and that they're all "ready to meet the baby." The source added that Kylie was nervous about giving birth, but that her big sisters were "helping calm her fears" and letting her know what to expect.
Kylie has been famously out of the spotlight for the past few months, posting only sporadically on social media, missing her family's Christmas card photoshoot, and generally staying away from the cameras. She and her sister did release their Calvin Klein ad earlier this month and she's there... wrapped conspicuously in a blanket.
More and more, anonymous sources reportedly close to the family are hinting that she's due any day now. A source close to Kris told People that the 20-year-old was ready. The source told the publication:
Kylie is definitely ready for baby to arrive. Coming up on the end of pregnancy, there are a lot of different emotions. She's excited, she's anxious … there are a lot of feelings, but she's ready for what's next.
But since we haven't heard any confirmation from any of her sisters, or boyfriend Travis Scott, the reported father of the baby, it's all still speculation for now.
Either way, it has to be stressful for the makeup mogul, who has literally spent most of her waking life on camera and in the public eye. It makes sense that she'd want to keep some things private, just like her sisters have done with certain life events throughout the years. Even though they're reality stars and super famous doesn't mean that they *owe* us fans a "baby bump" shot or some artistic photoshoot announcing a baby. Anonymous sources have also expressed that to the media, according to W Magazine, saying:
She spent her adolescent life on television and has been famous for over 10 years now. If this is the first thing she wants to keep to herself, she should be allowed that. She's worked hard enough to do whatever she wants.
Although her life out of the public eye might have happened sooner than she expected. Back in 2015, she told Elle UK that once she became a mom, she would quit the public life saying, "Once I have a kid I'm not going to be on Instagram. You know, I'll probably delete my Instagram and just… I don't know, live life." She added in the same interview, "I would love to have a family and build a home with a farm in Malibu Canyon and just have my kids and throw away my phone, and just really, like, live my life and not do this anymore."
When she puts it like that, it sort of makes this baby watch thing seem kind of silly. Maybe the world should give her a break and let her take this time to herself. Pregnant or not.
Check out Romper's new video series, Romper's Doula Diaries:
Watch full episodes of Romper's Doula Diaries on Facebook Watch.