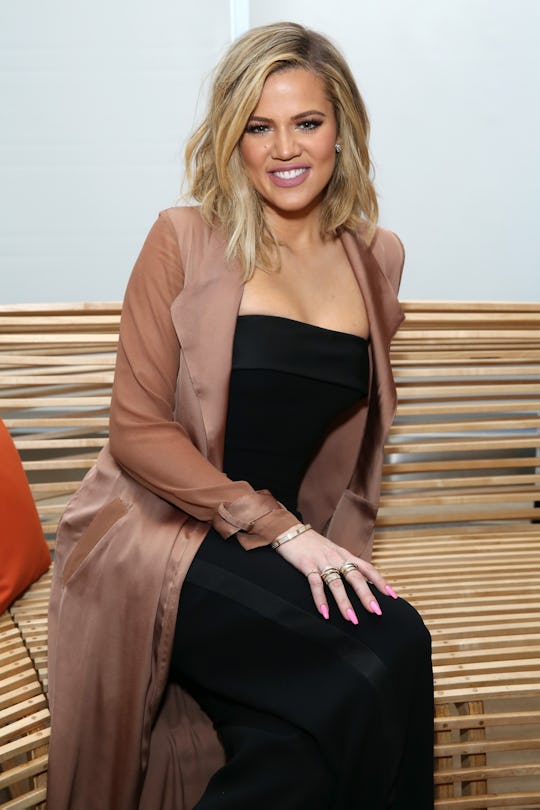 Cindy Ord/Getty Images Entertainment/Getty Images
Fans Can't Handle Their Excitement Over Khloé Kardashian's Latest Pregnancy Update
Although she mentioned how far along she was in a tweet to a fan over the Christmas holiday, Khloé Kardashian is now "officially" six month pregnant according to her most recent Instagram post. In the picture, Kardashian is posing in a black body con dress, showing off her growing bump, and fans are loving every bit of it. In another photo posted just after her bump pic, she shared another post of her and Tristan Thompson together, captioned "mom and dad."
How could all of us Khloé fans not be excited about this? We waited almost three long months trolling her social media accounts for proof that her pregnancy rumors were true, all the while reminiscing about the myriad times Khloé's talked about having kids one day and how much she loves being an aunt to her nieces and nephews.
If you love Khloé most of all the Kardashian and Jenner sisters, you also know (or assume, because we don't know her, of course) that she's head over heels in love with Thompson, the father of her baby. After her long and seemingly tough relationships, including a very public marriage and divorce from her first husband, Lamar Odom, six months pregnant Khloé is living, breathing, absolutely glowing proof that things actually do work themselves out eventually.
No matter what happens to Khloé and her new, growing family, she's soaking up every minute of happiness, which is just, frankly, really nice to see these days.
She's Totally Living Her Best Life
Although she hasn't confirmed the gender of her baby yet, Koko mentioned just after the holiday that she was going on six months when a fan asked her in a tweet. Now that it's official and we're getting "mom and dad" captions, you better believe that more pictures of her pregnancy and baby are coming our way.
Are there other things in the world I could be worrying about or paying attention to these days? Absolutely. But most of them are depressing AF, which is exactly why obsessing over the state of Khloé's uterus and her family is just the kind of escape America needs right now.
How Cute Are These Two?
Now that she's officially "out" about her pregnancy and confirmed that baby's definitely on the way, it's also very likely that when Keeping Up With The Kardashians returns, there will be some scenes with Khloé talking about her pregnancy and how everything went down when she first found out. The Kardashians always manage to keep a few family secrets out of the media and saved exclusively for their show.
I'm not the only one who can't help but be thrilled for this complete stranger, either.
Other Fans Are Stoked, Too
The pictures Khloé posted on Tuesday were taken on New Year's Eve, judging by her outfit. It's the same one she was wearing in a Snapchat video that Thompson took on their way to party the night away. In the video, she tells him that he "looks really good." Without missing a beat, the NBA player tells her that she looks "fine" for being six months pregnant, which might not be the most body positive thing to say to a woman, but was meant with all the best intentions. These two appear to be just loving life these days.
Along with her Instagram "Top Nine" photos to mark the end of the year, Khloé wrote:
I can not begin to explain my excitement for everything new in 2018!! Nerves and anxiety are an underestimate. I'm thankful to have a beautiful support system in place to help me celebrate New chapters! New experiences! New beginnings! I'm trusting the magic of NEW this 2018! Reflection is a beautiful thing but don't dwell on your past too deeply.
May we all be as excited about the new year as Khloé Kardashian is, new baby and new boyfriend not required. Hopefully she keeps sharing her good news, because the rest of us could always use some.
Check out Romper's new video series, Romper's Doula Diaries:
Watch full episodes of Romper's Doula Diaries on Facebook Watch.