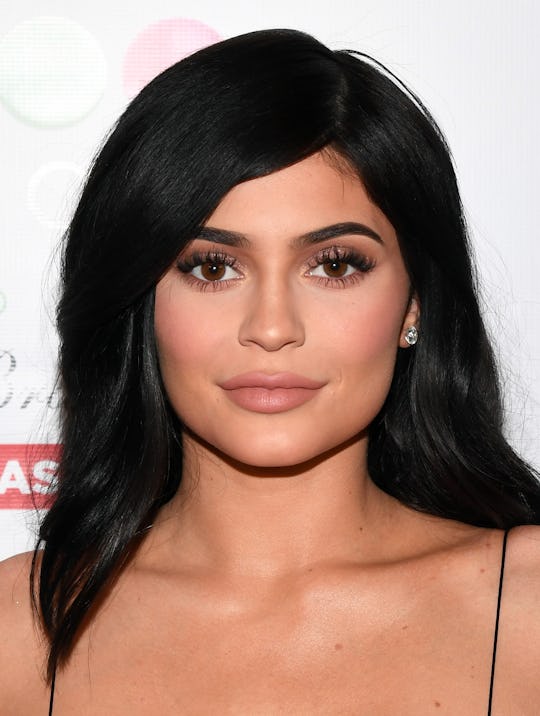 Ethan Miller/Getty Images Entertainment/Getty Images
Kylie Jenner Said Some *Super* Interesting Things About Raising Kids Recently
On Friday, TMZ reported that Kylie Jenner might be pregnant with Travis Scott's baby. Naturally, the surprising news sent Jenner's fans into a frenzy, and the internet's best sleuths have been trying to piece together clues to determine whether Jenner is actually pregnant. If you consider yourself to be one the people investigating Jenner's supposed pregnancy, you'll want to pay attention to the recent comments Kylie Jenner made about raising kids.
The Kardashians are experts at keeping fans on their toes, and it's looking like Jenner has taken a cue from her stealth momager Kris Jenner (all hail the master manipulator of entertainment news) in regards to how she's handling this pregnancy news. On Sunday, Jenner shared a photo of her partially exposed stomach on Instagram, which was likely a nod to all of the people obsessing over whether she's pregnant. Given that there's a good chance that Jenner is enjoying the "is she or isn't she" game on social media, fans are looking to past comments Jenner made about raising kids for answers, which is arguably the best option since it's pretty clear that Jenner isn't going to throw the internet a bone anytime soon.
According to BuzzFeed News, Jenner has made a lot of curious and suspect comments about raising kids on a recent episode of her solo show, Life of Kylie. For those of you who didn't catch the episode, it follows Jenner as she contemplates buying a farm for her future kids. Although it might be difficult to imagine Jenner chilling on a farm (though it would make for some interesting Snaps), Jenner seemed excited about the idea on the episode, and she discussed how she's ready to give up fame for a family.
Jenner said, according to InTouch Weekly:
I don't know what I would have done if someone had told me at nine years old how famous all of us would have been. I live normal on an every day basis, but can I go out and do normal things? Not really. Everything in my life is really great and I wouldn't trade my life for anything, but I do get lost. Like, what do I really want? What I really want is to live on a farm and have chickens and raise animals and have a family.
Jenner brings up a very valid point here, which is that she has been in the fame game since she was a young child. Although a lot of people have pointed out that Jenner is a bit young to be pregnant (which is totally sexist, by the way), it makes sense that she's ready to settle down and start a family — she has lived a lot of life in just 20 years. Also, one has to ask, why isn't it the right time for Jenner to start a family? Is there ever a right time to have a kid? Ridiculous backlash aside, it seems like Jenner has been considering her future family for a while now.
In another clip of the episode, Jenner explained why she would want to raise her kids on a farm and not in a Beverly Hills mansion, for example. Jenner revealed, according to BuzzFeed News:
One day I just want to move to a farm and live the farm life. I want to wake up and get my eggs from my chickens and ride my horses. No paparazzi. The farm for me represents privacy and the way I want to raise a family. It just seems peaceful and I want my kids to grow up on horses and for me to have responsibility and garden. That would be a dream and I would love to do that.
Well, it's totally possible that Jenner's dream might become a reality in about five months. Although it's not clear if Jenner was pregnant in this episode, it's obvious she had kids and raising a family on the brain. If Jenner is in fact pregnant, one can only hope that she'll be able to make her farm aspirations come true, because it's a wonderful thing when a parent can raise their child in an environment that they enjoy and love.
Watch Romper's new video series, Romper's Doula Diaries:
Check out the entire Romper's Doula Diaries series and other videos on Facebook and the Bustle app across Apple TV, Roku, and Amazon Fire TV.