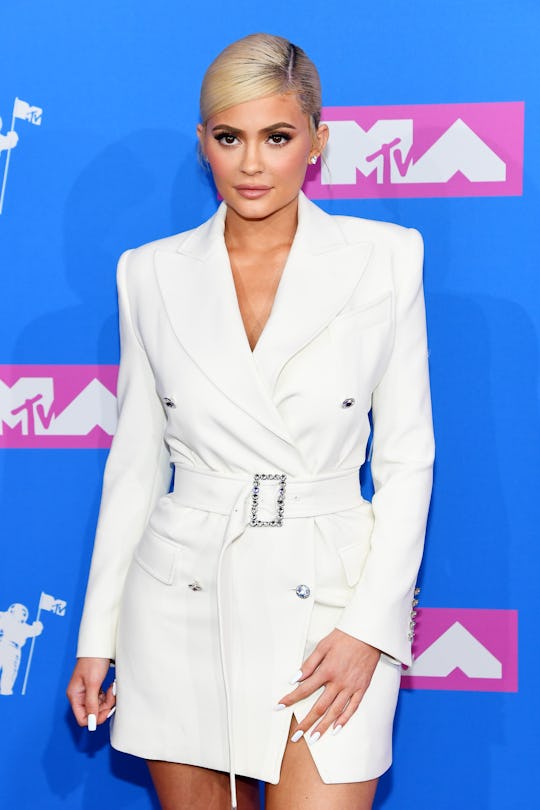 Nicholas Hunt/Getty Images Entertainment/Getty Images
Kylie Jenner Shared An Adorably Twinning Photo Of Stormi & Chicago
Back when rumors of The Great Kar-Jenner Baby Boom started swirling, the idea that Kim, Khloé, and Kylie might actually be expecting babies simultaneously almost felt too good to be true. But expecting they were, and now, the world gets to watch as their little girls grow up together: on Tuesday, Kylie Jenner shared a photo of Stormi and Chicago's "slumber party" on Instagram, and honestly, it's simply too much cute for one photo. In the adorable pic, Kylie and Kim's baby girls had a pre-bedtime snuggle together, and dressed in matching pink pajamas, the infants — who were born about two weeks apart — looked like they could easily pass as twins.
Though she kept her pregnancy pretty much entirely under wraps, proud mama Kylie has been fairly open about sharing glimpses of her growing baby girl on social media following her birth in February. But even though Kylie, Kim, and Khloé have spoken a fair bit about their daughters' close bond, there hasn't been a ton of photographic evidence. In May, Kim told The Evening Standard that Chicago and Stormi were "best friends," and that having a child at the same time at Kylie had brought the two of them closer. And judging by Kylie's sweet photo, well, that definitely seems to be the case.
In the pic, the two girls snuggled on a fuzzy pink and white blanket, with 7-month-old Stormi looking happy holding onto to a toy, and 8-month-old Chicago opting instead to clutch a tube of diaper cream. And even though the two girls don't actually share a ton of DNA — as it is, Kylie and Kim are only half-sisters — commenters couldn't help but think they looked totally identical.
A number of Kylie's Instagram followers chimed in to say that the girls were "twins" and that they were "the cutest" (which, let's be honest, is completely accurate). And on Twitter, some even noted that the photo was a perfect tribute to their mothers, who also tend to look *very* alike:
Others pointed out, though, that the resemblance between all three Kar-Jenner babies was so strong that it was honestly hard to tell them apart:
But even if the twinning shot left some fans confused over who was actually who, it seems the one consensus we can at least all draw is that the famous family definitely makes really cute babies:
Though Khloé's 5-month-old daughter, True, seemed to have missed on this particularly cousin bonding session, she, too, seems to have been clocking a lot of quality time with Kim's youngest lately. Earlier this week, Kim shared an adorable photo of True and Chicago sitting together, and captioned the photo, "I got this True," after Kim's lookalike daughter appears to be letting her cousin know she totally has everything under control:
But it looks like True is also a big fan of her older cousins, too: in August, Khloé shared a series of snaps on Instagram of True hanging with Kourtney's 6-year-old daughter, Penelope, and wrote that seeing True get to spend time with her sisters' kids "are the moments [she's] been waiting for!!!"
Given the super tight-knit nature of the Kardashian-Jenner family, it's not entirely surprising that it feels so important to the three sisters that their little ones are close to one another as they grow up. But seeing Stormi and Chicago together for their sleepover makes it pretty clear that when Kim and Kylie talk about their baby girls bringing them closer together, they really mean it.
And honestly? As cute as they clearly are already, something tells me it's only the beginning of the adorable photos still to come as they trio grows up together. After all, if North and Penelope — aka the original next-generation Kardashian icons — are any indication, there will be some truly epic cuteness in the future when they celebrate their birthdays with over-the-top parties, or live their very best lives at Disneyland.