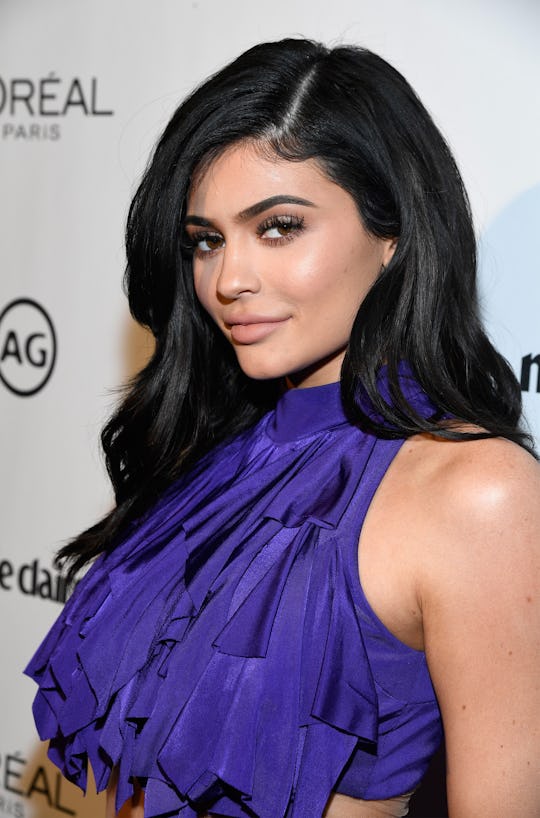 Matt Winkelmeyer/Getty Images Entertainment/Getty Images
Kylie Jenner Shared A Sweet Photo Of Stormi's Books & You Probably Read Your Kid The Same Ones
Listen, even though plenty of headlines will tell you that stars are just like you, you probably roll your eyes because having a closet the size of a living room isn't exactly commonplace. But, sometimes it's true. And after Kylie Jenner shared a photo of baby Stormi's books, you might actually realize that you probably have more in common with the makeup mogul than you imagined.
On Sunday afternoon, Jenner took to Instagram Stories to share a little look into her day and it seemed so relaxing. After sharing a gorgeous glimpse of her bedroom window view after waking up, Jenner also gave her fans a front-row view into her daughter's library. While baby Stormi might have quite the lavish nursery, what's on her bookshelf is actually pretty attainable and you'll probably recognize more than a few of the titles.
In her Instagram post, Jenner showed off titles such as Her First Bible, Fancy Nancy, and quite a few children's books written by celebrity authors, and they're all well-known and popular. Also in the mix was Jimmy Fallon's children's book, Everything Is Mama, and Savannah Guthrie and Allison Oppenheim's Princesses Wear Pants, as can be seen in the photo below.
With no real caption other than a "Sunday" sticker, it seems like Jenner's Instagram was a simple indication that she spent a relaxing Sunday at home, reading to her 2-month-old daughter. And honestly, how nice of a day is that? But, because she's Kylie Jenner, and has a casual 106 million followers on Instagram, there were actually some responses to her seemingly simple photo.
One of the celebrity authors with a book featured in the photo, Savannah Guthrie, tweeted in response on Sunday afternoon, "Wow! Happy to be on your bookshelf @kyliejenner!! #princesseswearpants#PWP"
Jenner is clearly loving life as a new mom and especially these lazy Sundays just hanging out with her daughter and reading some good children's books. Since her pregnancy and birth reveal on Feb. 1, Jenner hasn't done sit-down any interviews with press or with Keeping Up With The Kardashian cameras (that we know of, at least), instead sticking to social media to give any updates and insights into her life as a mom. But it's pretty easy to see that she's loving every second of it.
Indeed, looking back at Jenner's transition to motherhood, it's blatantly clear that she's absolutely adoring being Stormi's mom. After all, her first real update on life with baby was pretty telling in that she was totally obsessed with her daughter. When one fan asked how Stormi was, Jenner responded "she's good still staring at her all day. she looks just like me when i was a baby." And even though Jenner has now been a mom for a little over two months, her Instagram updates prove that she's up to the task of being there for her daughter, whether that means reading to her, snuggling with her, or anything in between.
Additionally, Jenner and boyfriend, Travis Scott, recently traveled to have Stormi meet her father's side of the family, and it seems like they all had a great time in Texas visiting the 25-year-old rapper's family this weekend.
While you may not be able to emulate everything about Jenner's life as a mom to Stormi, you could definitely grab a few titles off of her bookshelf and you might even have a few of them already. Additionally, Jenner's floating bookshelf in Stormi's nursery is also pretty enviable, and again, it's all totally doable.
Truly, Jenner's sweet Instagram update of her Sunday afternoon spent with Stormi and her awesome assortment of books shows just how much she's loving motherhood.
Check out Romper's new video series, Bearing The Motherload, where disagreeing parents from different sides of an issue sit down with a mediator and talk about how to support (and not judge) each other's parenting perspectives. New episodes air Mondays on Facebook.