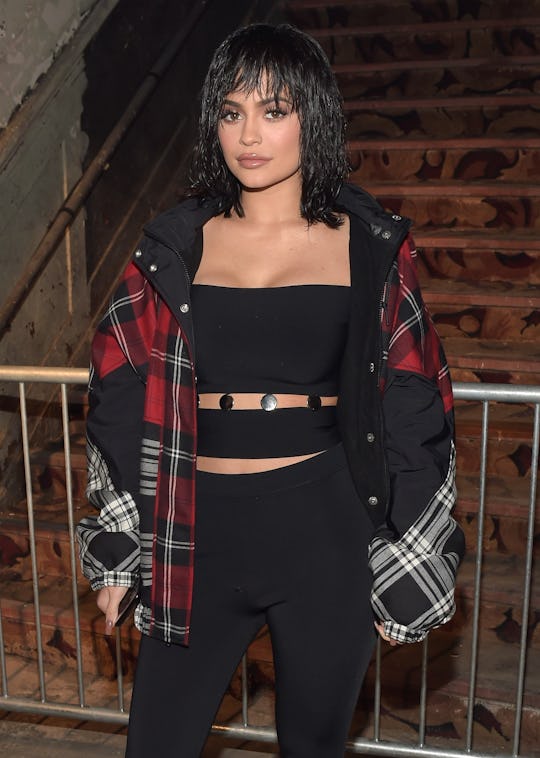 Jason Kempin/Getty Images Entertainment/Getty Images
Kylie Jenner Shares The First Photo Of Stormi's Room, & It's Seriously Adorable
After keeping fans in the dark throughout her pregnancy, Kylie Jenner recently started sharing updates about her baby Stormi Webster's first month on earth. On Monday, Kylie Jenner shared a photo of Stormi's room on Snapchat, revealing that the butterfly motif is even more prominent in her nursery than fans previously thought. A butterfly is a meaningful symbol in Jenner and Travis Scott's relationship, and they've made a habit of using the symbol throughout Jenner's journey to motherhood.
The photo shows a quiet section of Stormi's room. A large pink heart covered in dainty butterflies of varying colors hangs on the wall, which appears to be light blue or gray. On top of the hardwood floor is a plush rug, and a very... unique piece of decor. It looks like a 2-foot-tall LEGO person with the head of either a bear or Mickey Mouse. It might be a candy dispenser, as the "stomach" is filled with what looks like gum balls, and it bears a sign that says something about "B@BY." In the corner of the photo, Kylie added a caption in script writing that reads, "I love her room."
The KarJenners are great at getting their fans talking, and the combination of the odd little creature and the butterfly decor is sure to achieve that.
Jenner and her boyfriend/baby daddy Travis Scott have a significant history with butterflies. The couple got matching tiny butterfly tattoos together last year, and they subtly shared the news separately on Snapchat.
A few months ago, the reality star shared a photo of her hand decked out in an elaborate, pink, diamond-encrusted butterfly ring.
In Stormi's birth announcement video, titled "To Our Daughter," Jenner is seen wearing a chunky butterfly necklace. Jenner reaches to touch the necklace in the video, which documents her and Scott's love story as well as her pregnancy.
Because of the many butterfly clues, many fans surmised that Jenner would name her baby girl Posie, short for Mariposa, which means butterfly in Spanish. Scott also has a song called "The Butterfly Effect." After Jenner announced the name Stormi, people theorized that the name was inspired by the actual phenomenon of a Butterfly Effect, which is the idea that something as small as a butterfly flapping its wings can cause a large storm.
Fans first saw the pink heart decoration in "To Our Daughter." The video featured a close-up shot of the heart, making it seem like the nursery had a pink wall. The photo Jenner posted Monday reveals that it was actually the giant heart. Inception!!!
"To Our Daughter" also revealed several other areas of her nursery, including a decked-out wardrobe, endless designer shoes, a selection of children's books. The video dropped before Jenner announced her baby's name, so the butterflies seen in the nursery only further ignited rumors that the baby would be named Posie.
For now, Jenner has only released visuals of small areas of Stormi's nursery. But since announcing Stormi's birth, she has continued to open up more and more about pregnancy and motherhood. For example, about two weeks ago, Jenner shared an update about Stormi on Twitter. When a fan tweeted at her asking how Stormi was doing, she responded, "She's good 😊 still staring at her all day. She looks just like me when I was a baby 😊."
So as the updates continue to flood in, fans are surely crossing their fingers that a better look at Stormi's room is on the horizon. Maybe another fan will get the bright idea to copy previous Twitter users and will just ask Kylie for a better tour of the room.
Check out Romper's new video series, Bearing The Motherload, where disagreeing parents from different sides of an issue sit down with a mediator and talk about how to support (and not judge) each other's parenting perspectives. New episodes air Mondays on Facebook.