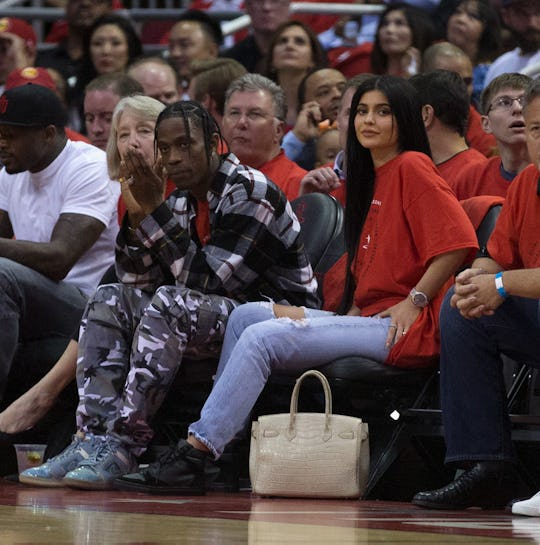 Bob Levey/Getty Images Sport/Getty Images
Kylie Jenner & Travis Scott Went On Their First Public Date Since Stormi's Birth
For many new parents, cleaning yourself up and leaving the house for a date night is a feat in itself. So, the fact that Kylie Jenner and Travis Scott, who are parents to 2-month-old Stormi Webster, have already had a few nights to themselves (as well as with each other) since welcoming their baby is actually pretty awesome. Last night, the new parents made a rare public appearance together at an NBA game, where they were photographed watching the game together. Kylie Jenner and Travis Scott's first public date since welcoming Stormi is notable for several reasons — but mostly because making time for yourself and for your partner has been proven to have benefits for new moms, especially in preventing postpartum depression.
Tuesday night, Jenner, 20, and Scott, 25, snagged courtside seats to a basketball game at the Toyota Center in Houston, Texas, where the Houston Rockets played the Minnesota Timberwolves in an NBA playoffs game, as noted by Getty Images. The Rockets won, and considering Scott is a Houston native, he was probably pretty jazzed.
Here they are last night:
And, just for kicks, here they are a year ago, on April 25, 2017, just after they started dating, doing the exact same activity. Talk about major déjà vu.
Bob Levey/Getty Images Sport/Getty Images
Bob Levey/Getty Images Sport/Getty Images
While it would appear not much has changed in Jenner and Scott's relationship based on these dates, oh so much has. On Feb. 1, they welcomed their first daughter, Stormi Webster. And, for the record, it seems like the couple brought their 2-month-old with them to Houston, based on a series of Snapchat videos of Stormi that Jenner posted yesterday evening.
"Hi happy girl. love you! I love you!" Jenner tells her daughter in one of the clips. "We went outside. What else did we do?" the new mom says in another.
So far, the petty people of the internet don't seem to have much to say about Jenner and Scott's courtside date night — which is a bit of a relief compared to how critical people were of the couple's last outing. (Perhaps the critics finally learned that mom-shaming is wrong!) Jenner and Scott, as well as Kourtney Kardashian and her boyfriend Younes Bendjima, all ventured out of Calabasas to attend Coachella over the weekend. And, because apparently mothers can only be mothers and not have lives of their own, people were mom-shaming Kardashian (who has three children: Mason, 8, Penelope, 5, and Reign, 3) and Jenner for leaving their kids at home to attend the annual music festival.
In fact, many psychologists have observed that taking time for yourself can help fight postpartum depression. Diane Sanford, author of Postpartum Survival Guide, explained to Parents that taking about 15 minutes every other day to do a relaxing activity will help new moms deal with motherhood-related stress. Considering Jenner is 20 years old, I honestly believe that going to music festivals and basketball games is relaxing for her.
Additionally, psychologist Karen Rosenthal explained to Parents that new mothers who exercise both before and after giving birth often wind up being more social and feeling better emotionally. "Taking a brisk walk, getting fresh air, and enjoying nature can improve your outlook," she told the magazine.
Mom-shaming someone for simply living her life is never OK. It's clear that Jenner loves Stormi so much (seriously, if you haven't watched those Snapchat videos from yesterday, you must), and there's no excuse for judging a mother who takes well-deserved time for herself. Not to mention, Jenner also seems hard at work on Kylie Cosmetics, with new fabulous lip shades dropping constantly, so the fact that she could even find the time for a night out is pretty dang impressive.
Check out Romper's new video series, Bearing The Motherload, where disagreeing parents from different sides of an issue sit down with a mediator and talk about how to support (and not judge) each other's parenting perspectives. New episodes air Mondays on Facebook.