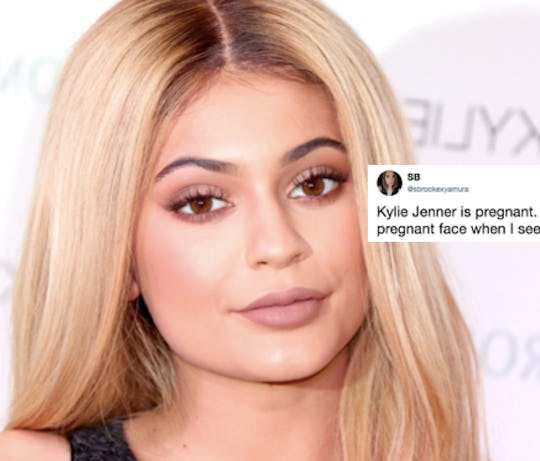 Frederick M. Brown/Getty Images Entertainment/Getty Images
People Think Kylie Jenner's Face In These New Selfies Is A Dead Giveaway That She's Pregnant
The youngest Jenner sister may have been keeping a low profile lately, but she's anything but off the radar. Every time the 20-year-old makeup mogul posts anything on social media or is spotted publicly by the paparazzi, fans go bananas trying to figure out whether the enduring (but, so far, not confirmed or denied) rumor that she's pregnant is true or not. And, of course, that's exactly why Kylie Jenner's latest selfies have fans talking. The fact that the three shots the she posted to Instagram on Monday feature, essentially, her face and only her face — leaving no photo evidence of a possible bump or lack of one — has not deterred the most diehard Jenner stans in the slightest. Instead, some of them are convinced that her face looks pregnant.
It's more than likely that if the reports — always citing unnamed "insiders" and sources — that Jenner and boyfriend Travis Scott are expecting had not surfaced in late September, these snaps would not be making the waves they are. But the rumor is loose and anyone who's been doing their part to keep up with the Kardashians can't help but to want to get to the bottom of this mystery. Which is why a slew of selfies set off an... interesting avenue of speculation for some of the amateur sleuths out there.
Jenner, who certainly has done her share of teasing the could-be pregnancy without saying the reports are true, captioned the first post simply "Happy Monday."
That pic, like the others, shows Jenner's face, the top of her (very cozy-looking) turtleneck sweater, and not much else. So, all the Sherlock Holmeses out there who specialize in Kardashian/Jenner pregnancy theories didn't have much to go on in analyzing this clue. But, oh, did they try. Here's a sampling of some of the Instagram comments, according to the posts as well as the Daily Mail:
face is changing in her pregnancy looks flat and nose looks flattened out.
Loving the pregnancy face! Hopefully juvederm and restylane don't cause pregnancy complications!
Can't hide the face can we I can see changes!
Some on Twitter picked up on this dubious line of investigation, too, apparently citing other pictures of her as well:
Since even before the pregnancy news came to light, Jenner has favored such closeup shots or throwback snaps when sharing content on Instagram. It's very likely that this is her strategy for giving as little as possible away — and even to keep fans and celebrity journalists alike guessing. And then there are the reports that Jenner is actually feeling a bit self-conscious, as an (again, anonymous) "source close to the Kylie Cosmetics founder" reportedly told People earlier this month:
Her body is changing and she's very self-conscious about it. She's always been insecure that she's not as curvy or pretty as her sisters.
There's no doubt that pregnancy can change a woman's appearance, and not just around her midsection. According to KidsHealth, the storied "pregnancy glow" is the result of increased blood flow that causes an increase in oil gland secretion because it brings more blood to the blood vessels. So, it's possible that fans are detecting this in Jenner's selfies, if she is, indeed, pregnant.
What's more likely to be going on here, though, is that people are simply choosing to see what they want to see. After all, the idea that she could be pregnant at the same exact time that her sister Khloé Kardahian is also reportedly expecting her first child with boyfriend Tristan Thompson, and that another sister, Kim Kardashian, is indeed expecting her third via surrogate is pretty tantalizing to some. You could even say it would be reality TV gold.
Check out Romper's new video series, Romper's Doula Diaries:
Watch full episodes of Romper's Doula Diaries on Facebook Watch.