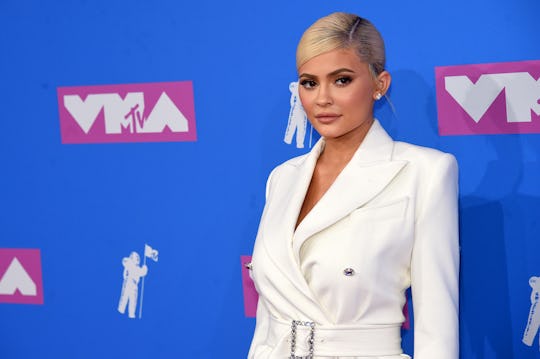 Jamie McCarthy/Getty Images Entertainment/Getty Images
Kylie Opens Up About 'Creating Life,' Inner Beauty, & More In Video For Vogue
Even though Kylie Jenner has been keeping Stormi's life pretty private, she's made it clear that she absolutely loves being a mom to her baby girl. In a short video that Vogue Australia released this week, Kylie Jenner discussed topics including becoming a mother, how she hopes to inspire her daughter, confidence, inner beauty, and inner peace.
Jenner is the cover star of Vogue Australia's 2018 September issue. On Sunday, the magazine dropped an artsy, vintage-documentary-style YouTube video, in which the makeup mogul shares musings about life. (Don't worry, she doesn't talk about "realizing stuff" at all.)
"Creating life was one of the most beautiful moments of my life. It's hard to explain why," Jenner said in the barely 2-minute video, of welcoming Stormi this past February. "It's just when you've experienced it you understand."
Jenner, who has built a makeup empire with her company Kylie Cosmetics, also shared how she hopes to inspire Stormi's outlook on beauty. "The beauty lesson that I want to pass on to Stormi is probably: just be carefree and experiment," Jenner explained in the video. "And let her experiment with her look and who she wants to be."
But to Jenner, inner beauty is even more important than outer beauty. She continued:
I feel like inner beauty is something that I was born with, that my family instilled in me. Beauty to me means being yourself. Beauty to me means Stormi. I think confidence makes someone beautiful. Life is beautiful. Marriages, sunsets...
(Could tying the knot be in the near future for Jenner and Travis Scott?)
When Jenner was pregnant with Stormi, she all but sequestered herself from the world. She did not respond to any pregnancy rumors, she very scarcely used social media, and she made virtually no public appearances once her bump began to show. After her daughter was born on Feb. 1, 2018, Jenner explained her disappearance from the public in an Instagram post. "My pregnancy was one I chose not to do in front of the world. I knew for myself I needed to prepare for this role of a lifetime in the most positive, stress free, and healthy way I knew how," she wrote on Instagram three days after giving birth. "I knew my baby would feel every stress and every emotion so I chose to do it this way for my little life and our happiness."
Jenner is clearly still a fan of that mindset. Six months later, she is still a fan of disconnecting from the world. She said in the Vogue video: "I find inner peace by shutting my phone and off and going into my little bubble, and just focusing on myself and my circle."
In an interview with the Evening Standard published in May, Jenner opened up about the challenges of early motherhood — the number 1 struggle being missing her baby girl when they're not together. In the interview, which was conducted by Jenner's sister Kim Kardashian, Jenner said:
Of course there's hard times and stuff… even in the beginning, just not sleeping, the nights, like, baby blues… and all the ups and downs. And also even when I'm here it was so hard to leave this morning. I'm like, "I'll be right back, I'm so sorry, I have to leave!" and she doesn't even know what's going on. I think about her all the time, anywhere I am. I would rather be with her or wish she can come everywhere.
Jenner has also opened up about how motherhood has changed her perspective on life. "I don't think being a mom changed me," Kylie said in a Calvin Klein campaign in August, E! News reported. "It just made me look at life a little differently and just value time."
Jenner's love for Stormi is so palpable, and it will be wonderful to see their relationship continue to grow.