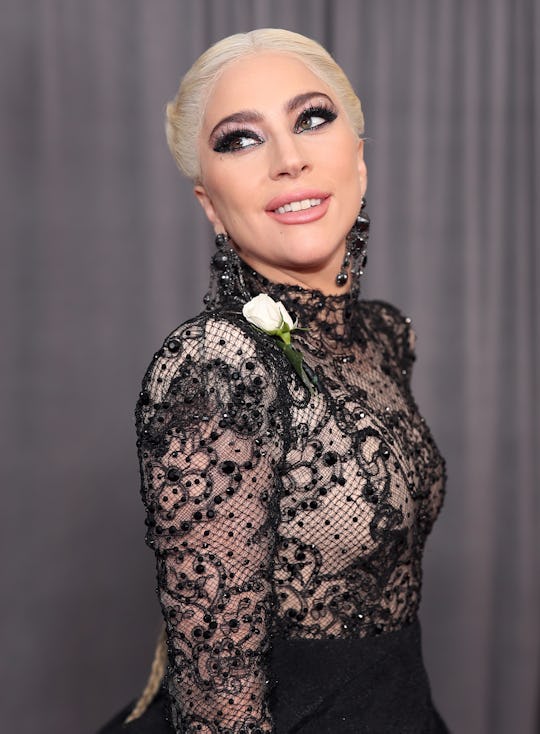 Christopher Polk/Getty Images Entertainment/Getty Images
Lady Gaga's 2018 Grammys Performance Will Blow You Away
Let's face it — as important as the Grammy Awards themselves are, viewers are far more likely to talk about the performances rather than the actual wins. So, of course, Lady Gaga's 2018 Grammy's performance is already generating plenty of buzz, mostly because of how much emotion she clearly put into it.
In the past, Lady Gaga has made quite an impression both on the red carpet and at the actual Grammys, like when she hatched out of an egg to perform "Born This Way" at the 2011 Grammys, or performed with the iconic Tony Bennett at the 2015 Grammys. There was also her pretty epic David Bowie tribute performance during the 2016 Grammys that continued to show off Lady Gaga's impeccable talent and style, even if her fashion choices are sometimes more risky than anything. Meat dress, anyone?
But I'm pretty sure no one ever missed out on a Grammy because of their red carpet looks and more than anything, Lady Gaga has proven that she can basically do no wrong when it comes to the award show. From performing onstage alone to rocking out with Metallica, she's always been pretty memorable every time she takes the stage and this night was no exception.
With Lady Gaga's 2018 Grammys performance, the singer chose both "Million Reasons" and "Joanne" from her 2016 album Joanne and revealed that she was dedicating the song and performance to her aunt, which only added to the feels during her entire performance Sunday night.
Lady Gaga has been something of a staple as far as Grammy performers go and already has six wins under her belt. With the 2018 Grammys, she was nominated for two different awards — Best Pop Solo Performance for her song "Million Reasons" and Best Pop Vocal Album for Joanne. Honestly, even if she doesn't walk away with a win in either of those categories, she still made a huge impact with her 2018 Grammys performance, but that's not exactly surprising.
The inspiration for Lady Gaga's most recent album Joanne was her own late aunt who died at the age of 19 from complications related to lupus. She announced the dedication right before her Grammys performance, but Lady Gaga also took to Twitter shortly before the awards show to shine some more light on what the album as a whole means to her. And, by extension, her emotional performance that followed.
"I have carried a deep grief in my heart over my family's tragedy. The loss of Joanne affected my father so deeply that it affected me," she wrote. "When he cried, I cried. When he was angry, I was angry. When he was hurt, I hurt. Today I transform this grief to hope and healing. After 10 years with you I still get nervous before the Grammys, but I know I have an angel with me."
Lady Gaga's performance wasn't about running around on the stage and performing some intricate choreographed dance along to her music, though I wouldn't say no to that either. Instead, it was about pouring her heart out and making her music mean something special, and it showed. In the past, Lady Gaga has made quite an impact at the Grammys and at the 2018 Grammy Awards, it was no exception. You kind of have to expect that no matter what she sings, it's going to be monumental in some way, but she was able to perform a song that was inspired by her own life.
She also seemed to dedicate part of her performance to the Time's Up movement, as she uttered the words right before going into her second song during her time on-stage at the Grammys. It certainly goes with Lady Gaga announcing before her performance that "This is for love and compassion even when you can't understand."
For Lady Gaga, being able to use the stage and her performance to work through her own feelings and make an important statement is basically what it's all about.
Check out Romper's new video series, Romper's Doula Diaries:
Watch full episodes of Romper's Doula Diaries on Facebook Watch.