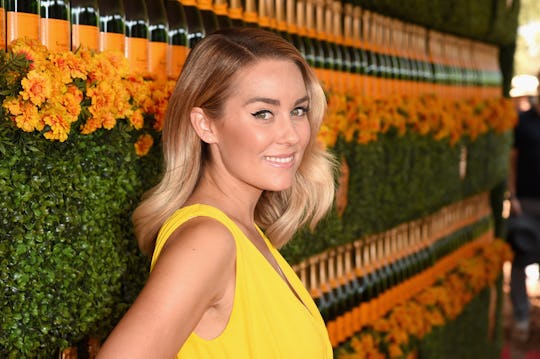 Jason Merritt/TERM/Getty Images Entertainment/Getty Images
Lauren Conrad's First Photo Of Liam Makes A Powerful Statement
Lauren Conrad has been living up the new mom life since the birth of her first child, Liam, with husband William in July. After sharing photos of her son in People this month, Lauren Conrad's first photo of Liam on Instagram makes a powerful statement, and says a lot about how she's processing current events within the context of new motherhood. She accompanied the photo of her son, swaddled with his hands raised toward the camera, with a quote from Martin Luther King, Jr.: "Darkness cannot drive out darkness; only light can do that. Hate cannot drive out hate; only love can do that."
While Conrad did not specifically mention Charlottesville by name, the violence and the president's terrible response have clearly etched a deep wound into the American psyche. Even as Conrad introduces her son Liam on Instagram, there's no getting away from the current climate. That's what makes Conrad's inclusion of a quote from one of, if not the most, prominent civil rights leaders so powerful. She also added her own thoughts about making the world a better place for her son.
I hope that we can all learn to love each other a little more so that our children can live in a world with less hate and more acceptance and understanding.
This isn't the first public photo of Liam; Conrad did a photoshoot with Tell and her son for People. But this is the first time Conrad herself has chosen to share photos of Liam with fans via any of her personal accounts.
Fans were super excited when Conrad announced her first pregnancy on New Year's Day and have been eagerly following her pregnancy journey on social media. She has been openly optimistic about becoming a mom, and has relished the experience by even launching her own maternity line with Kohl's while pregnant.
Conrad announced her son's birth in a super sweet, simple post on her Instagram on July 5: A cross-stitch sampler that said "And then there were 5" along with a cross-stitched version of the Tell family. Since then, the world had been waiting to see its first glimpse of Conrad's first child beyond an embroidered rendition.
To be perfectly candid, I'm surprised that Conrad used her meticulously styled Instagram account to even acknowledge what's going on in America. This isn't to say that I'm trying to judge her level of "woke-ness" — far from it: Conrad is committed to social justice, according to Forbes. I'm just speaking from the experience of having no memory of anything that happened in national or world news for probably the first three months of my son's life, simply because of how all-consuming those early newborn months can be.
What makes Conrad's first photo of Liam so powerful isn't just that she's introduced him to the world, but that she does so in the context of Charlottesville — a turning point in our nation's recent history. There will always be "before Charlottesville" and "after Charlottesville" — and Conrad became a mother at the dividing line. Her first photo of Liam and the accompanying caption capture that moment with the hopeful optimism fans have always admired in Conrad.