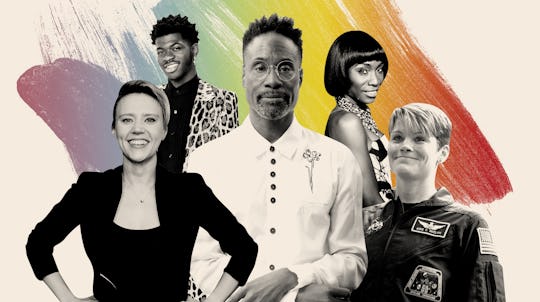 Jamie McCarthy, Mike Coppola, Andrew Toth, NASA/Getty
These 31 LGBTQ+ Heroes Belong In Every Classroom Curriculum
October is LGBTQ+ History Month, a yearly event that officially launched in 1994 to celebrate the achievements of icons in the community. 2020 marks the event's 15th anniversary, and it's the perfect time to expose your children to some of the most influential LGBTQ+ figures, historical and contemporary, if they are not familiar already. The official site has put together a list of 31 LGBTQ+ heroes to celebrate this year, and they're all folks that kids should be talking about in school and at home.
The site credits Rodney Wilson, a Missouri high school teacher, as the founding father of LGBTQ+ history month. Wilson "believed a month should be dedicated to the celebration and teaching of gay and lesbian history, and gathered other teachers and community leaders," to bring his vision to life. Past icons include Pete Buttigieg and Ellen Page. The people on the list are nominated by the public (you can nominate here for the 2021 list), then reviewed by LGBT History Month co-chairs (this year, the chairs are Anne Balay and Ken Lustbader) who make recommendations for the 31 icons they believe deserve a spotlight. Some of this year's names will likely be familiar to you already (like Kate McKinnon or Lil Nas X), but all of them should be familiar to everyone.
The nominees may be either dead or living, but they are all "selected for achievements in their field of endeavor; for their status as a national hero; or for their significant contribution to LGBT civil rights," per the LGBTQ+ History Month website.
"The LGBT community is the only community worldwide that is not taught its history at home, in public schools or in religious institutions," states the site. "LGBT History Month provides role models, builds community and makes the civil rights statement about our extraordinary national and international contributions." It's an unfortunate surprise that only four states (California, Colorado, New Jersey, and Illinois) mandate gay and lesbian history as part of a public school classroom's syllabus, per U.S. News, so it's up to parents and educators to work together to advocate for a more inclusive curriculum.
"Teaching about LGBTQ+ history has continuously shown to decrease bullying and stigma, and increase empathy for LGBTQ+ students," Armonté Butler, Senior Program Manager for LGBTQ Health & Rights at Advocates for Youth tells Romper. "By teaching LGBTQ+ history, schools are able to provide a comprehensive teaching of history that also creates a more safe and supportive environment for all students. When the positive contributions of LGBTQ+ people and key historical events are highlighted, students are equipped with more knowledge and resources that work to enhance the school's climate."
If you and your child want to learn even more about this year's 31 icons (and those from years past) or you're a teacher adding some meaningful updates to your curriculum, nonprofit LGBTQ+ civil rights organization, Equality Forum, is posting bios of this year's icons on their Instagram and the LGBT History Month website will reveal videos and additional resources about these important figures one day at a time as well. This list is just one avenue to explore to educate yourself and the next generation about all things LGBTQ+ — picture books, documentaries, shows (including kid-friendly ones), and social media accounts are other resources — but it's a great place to start.