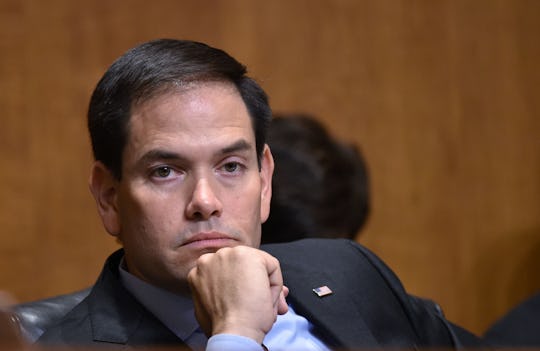 MANDEL NGAN/AFP/Getty Images
Marco Rubio Says Zika-Infected Women Shouldn't Be Allowed To Have Abortions & It's Serious
Americans have spent months closely tracking the movements of the mosquito-borne Zika virus as it has devastated our southern neighbors in South American and elsewhere. Now, domestically transmitted cases of the virus have manifested in Florida, augmenting the partisan bickering it was long inspired among American politicians. As his state deals with the health and economic ramifications of the virus that has been showed to cause severe brain damage in unborn babies, Florida Senator Marco Rubio said Zika-infected women shouldn't be allowed to have abortions. His (predictable) stance shows what a politically charged issue Zika has become, and inspires renewed analysis of under which circumstances a woman's body should really, truly be recognized as her own.
Rubio, a former Republican presidential hopeful and hardline pro-lifer who one year ago said on the debate stage that women should not have the legal option of abortion even in cases of rape or incest, told Politico Saturday that, in his opinion, the same goes for pregnant women who know they've been infected with Zika.
"I understand a lot of people disagree with my view – but I believe that all human life is worthy of protection of our laws. And when you present it in the context of Zika or any prenatal condition, it's a difficult question and a hard one," Rubio said in an interview.
Although reports of travel-related Zika cases in the United States have been circulating for months, the outbreak in one Florida neighborhood prompted the Centers for Disease Control and Prevention to issue a first-of-its-kind travel warning in early August. Zika isn't a serious health threat for most people, but it causes microcephaly, a severe brain abnormality, and a slew of other risks for babies in utero when a mother is infected, whether through a mosquito bite or from having sex with an infected partner.
And now Florida has 422 known cases, according to Politico. Regardless of the major health risks the virus poses for babies and the fact that a woman should have a fundamental right to bodily autonomy regardless, Rubio maintained that he would "err on the side of life."
Rubio has been consistent in his anti-abortion stance, but he also emphasized during his Politico interview that he also voted in favor of all Zika-relief bills he could. He even was one of the few Republicans to support President Obama's push to get Congress to approve legislation to spend $1.9 billion to fight Zika, calling a lack of action to prevent the spread of the virus "simply inexcusable," NBC News reported. Still, partisan disagreements partly related to funding for Planned Parenthood resulted in the failure of a version of the proposed legislation.
Rubio's willingness to cross party lines in search of a solution to this pressing health challenge is commendable. But that does not excuse his conviction that a woman should not have the right to make a medical and personal decision for herself in deciding whether or not to terminate a pregnancy. Even though abortion has technically been legal in the United States since 1973, conservative lawmakers and interest groups have been working to impose restrictions on the procedure to erode access — often operating under the guise of seeking to protect women's health. On June 30, for example, a federal judge blocked a Florida abortion law that would have obliterated public funding for Planned Parenthood and increase inspection requirements on such abortion clinics.
The judge blocked the law simply because it was unconstitutional, as it could potentially place an undue burden on women seeking abortion. Because safe and legal abortion is a constitutional right — no matter why a woman chooses that it's the right move for herself. The looming possibility of microcephaly in the infant, while it may be a factor in some cases for Zika-infected women, is really beside the point under the law. That's not how Rubio sees it, though:
Obviously, microcephaly is a terrible prenatal condition that kids are born with. And when they are, it's a lifetime of difficulties. So I get it. I'm not pretending to you that that's an easy question you asked me. But I'm pro-life. And I'm strongly pro-life. I believe all human life should be protected by our law, irrespective of the circumstances or condition of that life.
As with any difficult, complicated, oftentimes emotional challenge that our nation's lawmakers must parse (and, really, that's most of them), the questions of access to abortion and how to keep Americans safe from Zika are divisive. For some, they're both about fighting for the unborn, and that's clearly the position Rubio has taken. And it's refreshing to see a legislator disregarding partisan bickering to get the job done on the Zika front. It's equally important, though, to remember that, objectively, all women should have the right to choose whether to end of pregnancy or carry it to term, no matter the moral implications some attach to that. Zika is a factor right now, but, really, the issues are separate.